Join CATDC's first World Languages PLC
Teaching, especially in our students' second language, is a wonderfully creative endeavor—and one that becomes significantly more effective in collaboration with a professional learning community, encouraging us to share innovative ideas, build upon them, experiment in the classroom, and reflect on our ever-growing instructional practices. I cordially invite and encourage you to join CATDC's first World Languages PLC for creative teachers like you, starting on November 1st! 


Curious to know more about this opportunity, and me, your facilitator? Well, it all began when…


Once upon a time there was a teacher who saw himself exclusively as a World Languages educator, through and through. Every day he would search for authentic resources relevant to Gen Zers, strive to make his lessons engage students in each of the three modes of communication, and design compelling tasks that were challenging, yet comprehensible.


But one day his administrator asked something of him beyond his World Languages comfort zone. She told him that they desperately needed another teacher to take on two sections of "Creative Process" next fall, a project-based learning course following the design-thinking process, taught *gasp* in English!


The role he had built for himself suddenly came into question, clumsily sliding down the slippery slope towards a rapidly crumbling professional identity crisis.


Thankfully, he reminded himself to take a deep breath and let go of the pernicious ego nagging at him to fight the currents of uncomfortable change. He began treading water, floating more bravely down the unpredictable twists and turns of his teaching career, eventually coming to a calmer place of acceptance and recognition to focus on the logical next steps ahead of him: pick up the broken pieces, add some new ideas to his bag of tools, and build it back better from the bottom up. 


As a result, he spent the next three years teaching both himself and his students how creativity is a skill that can be trained, practiced and improved; how creativity starts with observation and collection; how creativity and problem solving are synonymous; and how creative ideas develop through iteration, improvisation, collaboration, and making mistakes. Unsurprisingly, these new ideas and approaches began incrementally finding their way into his World Languages curriculum, creatively augmenting and redefining what students were tasked to do in the target language. Eventually, he found a new equilibrium that balanced his two separate, yet increasingly intertwined, professional worlds. 


Until one day, his administrator asked something new of him that again forced him to stretch beyond his teaching comfort zone. She told him that he should consider presenting workshops with CATDC for other World Languages educators at independent schools. For a brief moment, he stumbled and nearly lost his footing; however, thanks to the increasingly unshakeable foundation he had repeatedly rebuilt and redesigned through the iterative process of expanding his teaching practice, he rooted himself in the creative challenge at hand. He decided to facilitate a series of five workshop sessions, spread out over the course of the school year, for a World Languages-specific professional learning community, excited to explore topics like the four domains of global competence, the IMAGE model for building cultural understanding, the PACE model for learning grammar in context, and improvisation attuned to social and emotional learning. 


And ever since then… Oops! Is there anything worse than telling an unfinished story? I know, I know, and I'm not sorry if I've helped encourage you to write the final chapter with me and sign up for this CATDC Ongoing Program. I can't wait to meet you on November 1st, so sign up to join our professional learning community of creative World Languages educators!


---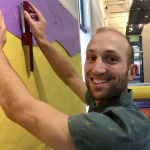 Michael Vossen is a High School teacher of Spanish and Creative Process at The Bay School of San Francisco. He is also president of the World Language Association of Santa Clara County (FLASCC), an affiliate of the California Language Teachers' Association (CLTA), and frequent presenter at ACTFL conferences. Michael is a salsa dancer and instructor; he speaks Brazilian Portuguese, and began learning Italian at the onset of the pandemic.