Building Community for People of Color in Independent Schools
The year is 2009. I am a young teacher, eager to change the lives of my students. I have read the books, gained a mentor, and am ready to take on this next chapter of molding young minds. Within my first year, my district assigned me to a committee, a common rite of passage for new educators. The assignment was to be a participant of the District Equity Committee, a role that at the time felt foreign and way beyond the scope of where I had imagined teaching would lead me. I walked into the meeting unsure, and walked out feeling energized and empowered. I realized that even if we as a committee were not going to end inequity across the district, the shared feeling of comfort and the collective exhale was invaluable.


It wasn't until I attended graduate school for a degree in social justice in education that I really was able to understand that moment in that first committee meeting: affinity spaces allow us to build confidence and connections, and affirm our experiences. Often educators of color convince themselves that microaggressions and invalidations are all in their head, spurring isolation and self-doubt. Affinity spaces are not the silver bullet to combat imposter syndrome and the racism experienced by educators of color, but they can offer a sense of belonging and much-needed support. Surviving and Sustaining: Building Community for People of Color in Independent Schools, an ongoing series for people of color, allows us to recreate those spaces of affirmation, self confidence, and unapologetic self care.


Affinity space is often cultivated through personal life and our chosen friends and family. This workshop allows us to take the necessity of affinity and safety into the workplace. Broadening community connections across schools, cities, and states, allows educators of color to know there is safety in their work communities and relationships, especially during our hardest moments.


Being part of the workshop creation came through a greater understanding of my own educational philosophy and ultimately my own leadership as a school administrator and leader across educational institutions: digging deeper into what community looks like and feels like in roles that have often been lonely and siloed. The human desire to connect and find purpose in what we do, for me, has only been strengthened through safe spaces and personally connecting to others. The most powerful takeaway has always been what I learn from others, their tricks, tips, and tools, knowing that I too can contribute to the wealth of knowledge that is accumulated when we come together.


We, as people of color, are not promised safety and security when we take jobs at independent schools. We are not promised a space to be completely ourselves, to "work it out", to come and say "I just can't do it today…". Meanwhile our white colleagues by default are given these spaces designed to accommodate their experiences. The expectation then falls on us to seek out our own place to recharge and relate. An expectation that is piled on top of the everyday expectations of a teacher or administrator of color.


As a DEI practitioner the quote "no pain, no gain" is one that I keep in my back pocket. I encourage you to take these words, and repurpose them for yourself, however that may look. Maybe today you need to hear "no love, no gain" or "no courage, no gain." Whatever you need, take this moment to fill in your blank, then make a plan to attend this space, and offer yourself what you need to make this year at your school filled with self-care and community.


---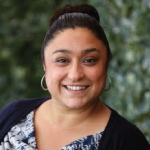 Quise Rodriguez has worked both a teacher and administrator in independent and public schools for the past 15 years. She holds an administrative credential as well as a Master's Degree in Social Justice and Equity in Education from UC, Berkeley. Being born and raised in Oakland, she has a deep love and respect for the Bay Area and its roots in diversity, activism, and community. Having attended independent schools as a child, the value of education was instilled in her at a young age. She enjoys the challenge in independent schools of growing and addressing their diversity, equity, and inclusivity needs.
---