Image of the Child and the Reggio Emilia Approach

Last spring I was invited by New School-West—as a parent—to travel to Reggio Emilia, Italy, on a Five State Educator's Tour with the entire faculty and one other parent. I have been a parent at The New School-West Preschool for seven consecutive years. One might call me a New School-West expert—not necessarily for raising 3,4, and 5 year olds per se, but certainly for my know-how when it comes to the emergency preparation bag, snack time specifics, and the collection process for the end-of-year teacher appreciation gift. As an administrator at Westland School I thought I also had a fairly in-depth understanding of the Reggio Emilia philosophy, which New School-West adopted decades ago. However, during my time in Italy, I discovered just how much I didn't know. The trip was transformative, both in terms of my takeaways as a parent-partner and as an educator.


I just finished my second year as Head of School at Westland School, a K-6 progressive school founded in 1949; it is my first headship. In my newness, I still feel like an ethnographer at times. Westland School dazzles me; the mission is rooted in democracy, citizenship, and equity and this commitment to democracy is lived out on multiple levels of school life. I am also inspired by how adults talk about and interact with children. There is a current of continuous respect and an ardent attunement to child development. The language used at Westland is utterly intentional. There is nothing "cute" about the interactions with children. Our work is serious, our grappling constant, and our goals ambitious.


I admit, I become a tad weary introducing new innovations or frameworks to a school. Schools, I think, can slide into cycles of innovation fatigue—too much, too soon, too fast, and "Whatever happened to what we were working on two years ago?" wonderings can abound. At Westland, I am endeavoring to strike the sweet spot between mobility and preservation, allowing for space and time to innovate and iterate thoughtfully—honoring all voices, allowing for reflection, and facilitating inclusive processes. So returning back to Westland from Italy—psyched! Pumped! And ready to roll! (And full of pasta and Lambrusco)— I knew I had to be calm. Chill. So, I decided that I wouldn't bring anything back, but would endeavor to deepen aspects of the Reggio Emilia approach that is already here. The most obvious opportunity began with my deepened understanding of the image of the child.


I recently came across this passage which explains the image of the child: "Educators influenced by the Reggio Emilia philosophy use this phrase. It refers to what people believe, understand, and assume about the role of children in education and society. This image includes how people think about children's capabilities, development, motivations, purpose, and agency. Social, cultural, and historical experiences influence a person's image of the child." I'd like to invite you to take a moment to reflect: How do you view the child? Children? Childhood? Your own childhood? These are essential questions that I began to pose to myself throughout the intense daily lectures and the three school visits. While I'm left with more questions than clear answers, I do have some exciting takeaways connected to the image of the child that will inform my work this school year.


Language, Language, Language

The pedagogistas, atelieristas, and teachers in Italy provoked me to reconsider the language I use to describe children as well as how I talk to children directly. Am I sometimes purely looking for amusement? Am I seeking out the next sound bite for my blog instead of deeply listening to their ideas? When in Reggio, I first thought the difference I noticed in the language used with children was due to translation quirks, but I soon discovered that the image of the child requires a different approach to language. Take children with learning differences, for example. In Reggio, they are not "children with learning differences," but "children with special rights." Imagine that, describing children based on their rights! Also, a pedagogista pointed out that you won't hear her or her colleagues talk about "students and teachers." Rather, they say "children and adults." The language oozes democracy and nonhierarchical frameworks. Dignity for the child exists at this cellular level: the adjectives, nouns, and verbs we use daily. I have a better sense of just how much language matters and plan to bring this heightened intentionality to Westland.


Whole Child 2.0
I imagine most of you working in independent schools have a reference to "the whole child" in your mission statement. We do too. While I often think of the whole child framework as the strict and inextricable connection between cognitive and social-emotional realms, my understanding of the complexity of the whole child framework shifted in Reggio. My understanding turned itself inside out actually. Educators in Reggio described children as "active protagonists in their growth and development processes." If I am to view children as whole, I must view them as having agency. I noticed that teachers didn't correct students, they did "theory repair" with them. Another teacher described her process of "building stories and learning together." She shared that the essential job of teachers was to think about the contexts they were providing so that children can be protagonists of their learning. As such, schools are places of research, for children and for adults. This notion was reiterated and modeled continuously.


Through the teachers' systems of documenting and recording their observations—then talking about their documentation with each other in ample set-aside time—they are able to co-create stunning, complex, studies. As one pedagogista shared, "Every place of education is a place where research is taking place: the research of what is the meaning of life." She went on to describe schools as "lovable…and where children and adults feel well." She added, "This is the journey we are in." And it's here where I saw the inextricable link between cognition (children as researchers, question-askers, protagonists) and social-emotional development (feeling loved, feeling well, knowing they belong.) The departure point for whole child begins with agency. Later in the week, we were introduced to the Italian verb curare and the notion associated with it:my well-being is related to the people around me. Now that is the version of whole child education I am bringing back with me to Westland!


The Culture of Children
In one of our final lectures, a district administrator commented that it is the responsibility of schools to share with society the culture of children—that it is our duty to give our local communities the opportunity to learn about children through their work and their language. How else will people know how competent children are? How will our children ever be viewed as citizens if their work remains insular? The administrator urged us to ask ourselves before going public with children's work: "Are we able to communicate an idea that is not a stereotype?" They shared an example of a kindergarten teacher exploring the local hospital with their students. When she was in the planning process for this learning experience, the teacher asked herself: "How can children's words be in dialogue with the city? The children and their teacher assessed what needs the hospital had, which eventually led to a beautiful installation of children's quotes and word-poems in the waiting room that could comfort patients' family members spending hours there, and thus leave a lasting representation of the children's thinking.


While every culmination at Westland is shared with parents and every class, I've already started talking about how we can extend Westland students' culminations beyond our own school community and campus. I am motivated to share out the culture of children in Los Angeles. And I am excited for Westland children to see their work as being so relevant that it demands a wider audience.


Never Wrapping It Up
Loris Malaguzzi, a founding father of the Reggio Emilia philosophy and the most quoted educator on the study tour, said working with children is one-third certainty and two-thirds uncertainty. His math provides me comfort, oddly. We did not choose a profession with tidy endings and bottom lines. We chose—and choose—to live in a world of glorious uncertainty. Remembering the reality of uncertainty helps me be gentle with myself, as an educator and as a leader. It also helps me remember that the image of the child—in all its complexity, context, and even confusion—can be one of the most powerful forces to help guide my work at Westland School.

---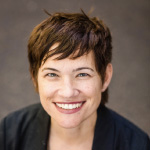 Melinda Tsapatsaris just completed her second year as Head of School at Westland School, a K-6 progressive independent school in Los Angeles that was founded in 1949. Prior to Westland Melinda worked at Wildwood School for 15 years as the assistant head of school, upper school director, and a middle and upper school humanities teacher. Before moving to Los Angeles, Melinda taught high school English at a public school. She earned her Bachelor of Arts in Education from Ohio University and her Masters Degree in Teaching from Brown University. She is the mother of three children and enjoys practicing yoga, camping, and reading. She sort of wishes she could do all at once.