Now We're Talking! Innovative Strategies for World Language Instruction
SESSION 1: November 1, 2022 | 3:30pm - 5:00pm
SESSION 2: December 13, 2022 | 3:30pm - 5:00pm
SESSION 3: February 7, 2023 | 3:30pm - 5:00pm
SESSION 4: March 14, 2023 | 3:30pm - 5:00pm
SESSION 5: April 19, 2023 | 3:30pm - 5:00pm
ABOUT THIS ONLINE ONGOING PROGRAM
This five-part series of interactive workshops will help world language teachers hone their high-leverage instructional practices in service of students' developing communicative proficiency in the three modes of communication. Participants will explore how to apply the four domains of global competence, the IMAGE and PACE models, Integrated Performance Assessments, equitable and accurate grading strategies, improv games, and the Universal Design for Learning.
Participants will:
Explore innovative strategies to engage students in the three modes of communication

Understand how to apply and modify the strategies for a wide range of student proficiency levels

Practice integrating new strategies into their lessons, assessments, thematic units, or Project-Based Language Learning (PBLL) experiences
This series is open to all world language teachers of all grade levels. Beginning-, mid- and late-career teachers interested in refining their practices are welcome.
Cultural Exploration with the IMAGE Model
Analyze how to support and sequence cultural exploration with images, photographs, murals, paintings, infographics, or videos

Participate in the four steps of the IMAGE model in a guided model lesson

Images and Making Observations

Analyzing additional information

Generating hypotheses

Exploring perspectives

Gain tangible and useful student-friendly examples of cultural products, practices, and perspectives

Use the modeled class to build your own IMAGE lesson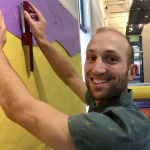 Michael Vossen is a High School teacher of Spanish and Creative Process at The Bay School of San Francisco. He is also president of the World Language Association of Santa Clara County (FLASCC), an affiliate of the California Language Teachers' Association (CLTA), and frequent presenter at ACTFL conferences. Michael is a salsa dancer and instructor; he speaks Brazilian Portuguese, and began learning Italian at the onset of the pandemic.
Cancellation Policy
Life happens. We understand that there will be times when you cannot attend a workshop that you have registered and paid for. We strive to be as helpful and flexible as possible when things out of your control happen. Please visit our FAQ page for detailed information about our cancellation policy and answers to frequently asked questions about enrollment and membership.