From Burnout to Thriving: Leveraging Powerful Communities of Practice
As independent schools navigate the post-pandemic world, levels of teacher burnout are at an all-time high. While many school leaders strive to alleviate the strain upon teachers in order to best serve their needs and thereby the needs of their students, there are only so many ways in which tasks may be redistributed or reimagined to maintain the integrity of school programs.


At the same time, equity work in schools has become more important than ever. Students of traditionally marginalized or minoritized groups are more likely to be negatively affected by the disruption to familiar learning habits and routines caused by COVID-19, as well as the impact of teacher burnout. Symptoms of burnout disrupt teachers' ability to center their students, to build deep and authentic relationships with their students on an individual level, and reduce the possibility of implementing personalized learning experiences, or developing techniques and methods of assessment rooted in equitable teaching practices.


In part as a result of these interrelated challenges, student learning outcomes have shifted significantly, and educators have seen these shifts disproportionately affect traditionally marginalized students. While many schools have made commitments to greater equity in their institutions, finding ways for high-level strategic goals to take root and manifest in classroom practice continues to be challenging. Even more challenge lies in leveraging equity work to improve learning outcomes for all students.


Building an equity-focused community of practice is one way to centralize and operationalize equity work in schools and mitigate teacher burnout at the same time. In a community of practice, when teachers feel a sense of connection and community among their peer group, they are more likely to feel fulfilled, thrive in the classroom, and translate that enthusiasm, curiosity, and love of learning to their students. Building a community of practice through non-evaluative observations of colleagues offers many benefits, including affirming strong practices, noting otherwise undetected student needs, and cultivating a rich exchange of ideas.


An example of this outcome was experienced by my colleague and Instructional Growth for Equity co-facilitator Meena Tahiliani, who posed the question, "What shifts in my learning environment would serve to elevate student voices?" While collaboration and assigning team roles were a norm of her practice, teachers who observed her noted the lack of accountability for students to fulfill their team roles and a need for scaffolding to clarify what the roles look like in practice. After Meena introduced a rubric outlining expectations and teams began self-scoring against it, a transformational shift in equity of participation was observed with less need for Meena to push students along or redirect them. Ultimately, the entire department began using the rubric as a tool for classwork and team assessments thanks to its efficacy in improving equity and engagement in math class.


Building strategies like these in a community of practice works toward mitigating teacher burnout by situating professional learning in a social context, providing a deeper sense of purpose and meaning, and allowing teachers greater power in making decisions that affect their own practice. Even small shifts in instructional practice, such as adding a talking tool or a rubric for teamwork, can offer large benefits by creating a more student-centered classroom experience that increases student accountability and agency, and ultimately, improves learning outcomes.


In our ongoing program Instructional Growth for Equity, teachers will work collaboratively with other teachers from a variety of schools to develop personalized research questions that place equity at the center. Once questions are developed, teachers will work collaboratively to build observational templates for data collection, and then engage in a process of non-evaluative classroom observations with partner teachers. The data collected is then used to drive cycles of formative feedback that help teachers identify new strategies that work toward answering equity-focused questions that are specific to each individual teacher's practice. In this program, teachers have the benefit of tailoring their work to their own needs and the needs of their unique school context, while also learning from teachers in other schools with overlapping needs. Communities of practice that are both inward and outward facing in their work serve to benefit teachers within their home context and other schools in their broader community.


In my own experience, first as an English teacher at Crystal Springs Uplands School and in my current role as Upper School Director of Teaching and Learning, I've often heard (and have also asked) the question, "How can I make equity work actionable?" when engaging with my colleagues and school leaders. While I am committed to my own inner work as an individual, I crave opportunities to act on my learning and to contribute to a more just and equitable environment for all students in my classroom. The Instructional Growth for Equity program is one way in which I strive to make diversity, equity, and inclusion a lived experience in classrooms and to do my small part in contributing to a more compassionate world for our young people during these times of tremendous change.


---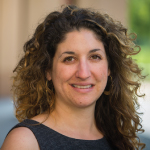 Julia Rubin is the Upper School Director of Teaching and Learning at Crystal Springs Uplands School. Before moving into an administrative role, Julia taught English, French, and Creative Writing at the middle school, high school and community college levels for 12 years. She mentored early career teachers for 5 years at Hillbrook School, where she also served as Writing Coordinator and Humanities Team Lead. As a researcher, she is trained in human-centered design and applications of educational technology to improve student outcomes. Julia is particularly interested in unleashing the creative potential in both teachers and students as they navigate the process of making equity work a lived experience in classrooms.