Connecting Education to Community Impact

I am going to begin with a true and uncomfortable statement. The schools where we teach are very expensive. Crazy expensive. In fact, tuition for California independent high schools is often higher than the median income in the cities where the schools are based. Gasp. Sigh. Yet, our schools remain committed to principles of responsible citizenship and even social justice, with missions increasingly focused on cultivating student change-makers and activists — the new generation of leaders who will take on the myriad societal and environmental problems swirling around us.


This tension — between a school's price tag and its stated progressive mission — is something that I ponder often and have discussed with many colleagues across independent schools. In fact, as a high school humanities teacher for over two and a half decades, I regularly daylight this dilemma for my students — my seniors, in particular — by asking them: Is your private school education preparing you to be a perpetuator or provoker of the status quo? It is a hard question for these college-bound students trying to balance their youthful idealism with a pragmatic sense of life's expenses, but I am always impressed by their dedication to this essential existential quandary.


A few years ago, I was given the opportunity to shift my role at Head-Royce (my K-12 school in the Oakland hills) when I was asked to lead our school's efforts in civic and community engagement. I was excited for this challenge since I had become increasingly more compelled by "real world" contemporary matters after more than twenty years around a seminar table exploring literature and history. I liked the idea of helping to translate the institutional buzzwords of citizenship, passion and purpose to the development of actual programs, but I didn't yet have the tools to do it.


What I did have was a clear guiding question for my new role, one that felt more tangible and specific than my previous bigger, more existential question I was sharing with my students. The new question was a bit wordy, but it helped me capture the different facets of what I hoped to explore: How can independent schools (those inevitable enclaves of privilege) teach genuine community engagement and build authentic reciprocal partnerships with local organizations while intentionally avoiding the age-old tinge of paternalism?


With this question in hand, I began doing what any self-respecting educator looking for guidance does: Google-searching models for best school practices. Over time, my efforts led me to the motherlode of professional development on community engagement: CATDC's Impact Lab Series.


As a lifelong educator, I have always been drawn to the idea of impact — impacting students in a positive way who, in turn, will be inspired to beneficially impact others. And as a lifelong student, I have always sought learning opportunities that allow for hypotheses and experimentation, failures and successes—in other words, a lab environment. Thus, when last year the CATDC offered the multi-session Impact Lab Series, I was in!


The Impact Lab Series spread out over the entire year, beginning with an introductory session in September followed by four, day-long workshops throughout the year, each one differently flavored (on storytelling, partnerships, social entrepreneurship, and micro-civics) and held in a different memorable location (Impact Hub, Google Community Space, 826 Valencia). Though each Impact Lab session deserves its own blog post to unpack the rich learning specific to it, I am going to focus here on a bigger picture — my four general take-aways from the "laboratory" on how best to inspire student civic engagement and frame effective impact programs within independent schools.


All of my gleanings below were inspired by our three dynamic Impact Lab facilitators — Guybe Slangen from San Francisco Friends School, Stacy Kertsman from Castilleja's ACE Center, and Annie Makela from Hillbrook's Scott Center for Social Entrepreneurship — along with the other organizations (such as the National Network of Schools in Partnerships) who joined us in the Lab. I am grateful for the forums and network of educators which this PD opportunity provided me in answering my question on best practices for creating high impact community learning programs.


Take-Away #1: Have a Clear North Star in Your School's Community Engagement Work

As with all of my take-aways, this one is simple and obvious, but so critical to the success of this important work. You must have a visible North Star by which your school navigates community impact initiatives.


Ideally, this star is visible in your school's mission, strategic plan, publications, hiring/evaluation criteria, admissions open houses, actual placement of program space on campus, to name some key areas. Whether you look at your institution from the perspective of an insider or outsider, there should be no doubt about your school's commitment to this work. At my own school, my efforts have benefited greatly from having a high-level goal within our Strategic Plan that directly mandates Head-Royce to "Drive deeper civic engagement and build authentic partnerships within Oakland and the local Bay Area" — an essential clarion call to action, a flashing neon billboard, that makes the work I do indisputable.


Take-Away #2: Language Matters, So Pick Your Words Carefully

It is not surprising that my English teacher training has made me obsessive about word choice, especially when it involves communicating to community groups from our (literal) perch of plenty on top of our Oakland hill. Similar to many other schools, Head-Royce has intentionally shifted the language of our program from "Community Service" to "Community Engagement." The feedback we received from our Oakland partners was that the word "service" was too one-sided, too top-down and paternalistic, and woefully inaccurate. It was clear to all that our students were being "served" by the relationship with community organizations as much as or even more than any service we brought to them. We chose the word "engagement" for its inherent sense of reciprocity and egalitarianism — an essential linguistic acknowledgement that both parties (school and community organization) are served by the relationship.


Take-Away #3: Approach This Work with Deep Humility

Yes, all educators are in the business of empowering students to realize their power for social change, but first and foremost we must teach our students to be listeners within their greater communities, genuine and humble learners able to observe strategies and practices already pursued by the folks working within community organizations. Many of the adults they will meet in the field have spent their professional lives devoted to complex social and environmental issues — not a single one of which is easy to solve. Though someday our students will hopefully become those "agents of social change" we love to invoke, all of us must remember that right now in their lives our students are still students, nowhere near the position to "fix" or "solve" any large-scale problems. It is through relationships with community organizations that they will develop the key competencies — of listening, openness, self-awareness, empathy, and comfort with ambiguity and new situations, to name just a few— which will best prepare them, some day in the future, for genuine participation in effective long-term solutions.


(Important Caveat: I am a big fan of youth activism, especially within groups reliant on the provocative voice of the young, such as Youth vs. Apocalypse and Fridays for Future. This rallying cry for awareness and action needs to come from young people; however, much of the intricate structural work to repair the world — Project Drawdown as an example — will come from folks with more developed expertise.)


Take-Away #4: Keep a Focus on Local Issues (Even When the Topic Is Global) Since Proximity Is Critical to This Work

I grew up in the 1980s with the catchphrase "Think Globally, Act Locally" — a construct that I still live by. However, with students now navigating an increasingly complex world, there is also wisdom in the idea of a more focused local orientation for our often overwhelmed students. In fact, as I plan programs for my school, I find myself saying "Think Locally, Act Locally" while definitely invoking the global connections when they make sense.


In fact, my school's hyperlocal focus actually plays out in our global programming. We still sponsor at least two or three international study-travel trips per year, but we clearly root each of these programs in a local issue. Last year a group of students pursued a comparative study of the housing crisis — in Oakland, Prague, and Berlin — where they met with critical stakeholders defining the problem and forming solutions (city officials, housing activists, non-profit housing organizations). Though the program contained a global perspective with its travel to European cities, its anchor remained solidly local in nature — how we can best understand the housing crisis in our own home city. Similarly, our two international study-travel programs this year (one on the refugee crisis which will take the students to Greece and one on sustainable cities which will take the students to China) will each begin and end with a deep dive into the local dimensions of those issues in Oakland. If you are interested in learning more, we will be presenting on this local-global program focus at the GEBG Annual Conference this Spring.


With this increased local focus comes the ability to have our students be more regularly proximate with the issues they are studying, and with this proximity comes the deepest learning of all.


During one of our Impact Lab sessions last year, Stacey Kertsman of Castilleja invoked the powerful words of Bryan Stevenson, the Founder and Director of the Equal Justice Initiative: "If you are willing to get closer to people who are suffering, you will find the power to change the world." Again and again, I have seen the powerful effect for our students of moving beyond abstract classroom discussions to actual work — with all of its joy and messiness — within the community. The role of such experiential proximity in our teaching — be it working with unhoused people living in curbside communities or creating carbon sequestration gardens with local non-profits — is profound, and one that I hope to continue exploring with a future Impact Lab cohort.


In closing, though I am still in the nascent stages of bringing this work to Head-Royce, I have already seen our school culture and practices shift over the last year. We are beginning to offer our students a richer, more grounded and more relevant education, one that connects them to pressing issues and community organizations from which to learn. Indeed, the new and essential mantra of Community Engagement work has become … proximity, proximity, proximity.


I have also seen a subtle shift in our students' sense of worth as the tyranny of the GPA — that age-old gage of internal worth — has become better counterweighted by other factors including the agency and joy students experience in community work.


Lastly and most importantly, I am hoping that with this evolving K-12 educational model experienced by our recent graduates, they will feel better equipped to shape lives of purpose and meaning — ones that challenge the status quo where a private school tuition is more than a city's median individual income — and genuinely use their agency and impact to create the more just and humane world to which we all aspire.

---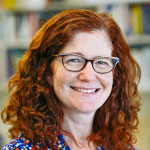 Nancy Feidelman is currently the Director of Head-Royce School's Center for Community Engagement, a K-12 program hub promoting civic engagement, community partnerships, place-based learning and sustainability initiatives. Prior to assuming this new role, she has worked at Head-Royce over the last 25 years as a faculty member within the English and History Departments in addition to serving as a Grade Level Dean for almost two decades as well as a Department Chair. Nancy currently co-teaches a Senior English Elective titled "Words That Matter: Reading and Writing for Social Change." A native of Washington, D.C., Nancy attended Georgetown Day School for 13 years, which in part inspired her desire to become an educator and pursue social impact work. Now a Californian, she loves living in Oakland with her husband (whom she met at Head-Royce), their two sons (who both attend Head-Royce) and their two cats (neither of whom has ever had anything to do with Head-Royce).
If you are interested in learning more about Head-Royce's work in the area of Civic and Community Engagement, please check out the Head-Royce School Magazine Summer 2019.