The Impact of Finance and Entrepreneurship
Feb 15, 2019 1:00PM—6:00PM
Location
WeWork Valley Towers
Cost  $300 members; ($450 non-members)
Categories Curriculum & Pedagogy, Intensive

Annie Makela
Director of the Scott Center for Social Entrepreneurship at Hillbrook
"It's vulgar, coming from where I do, to talk about money."
Sound familiar? When the National Financial Educators Council asked students "what high-school course would benefit you most?" over 50% responded "money management." And we know that teaching  young people about how to wisely manage money has an impact that extends far beyond the individual, empowering youth to use finance as tool to engage with what matters most to them and their communities. Talking about money is difficult yet essential if we are to truly prepare students for a life of meaning and purpose.
In this session, we offer our perspective on places in school for money-talk and how it connects to developmental curiosities and concerns. We will also share projects and tools for PreK-12th grade, from bake sales to micro-lending, playground negotiations to B corp certifications.
By reflecting on personal values and beliefs, and developing new strategies for talking about and understanding one's relationship to money with their students and communities,  participants will leave better-prepared to design learning experiences that use finance and an entrepreneurial mindset as a tool for social change.
The learning portion of our workshop will run from 1:00-5:00pm, with an optional happy hour from 5:00-6:00pm.
Participants will reflect on their own ideas about the meaning of wealth and time well-spent
Learn more about the importance of time in the growth of capital and investment in the future of communities
Analyze how accumulation and investment of economic, social and cultural capital can magnify our impact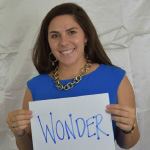 Annie Makela works at the intersection of social impact and education. She is passionate about entrepreneurship and finance as a vehicle for social change. Annie recently accepted her dream job at Hillbrook School, launching the Scott Center for Social Entrepreneurship. She asks everyone she meets two questions: "What matters to you? What are you doing about it?" Previously, Annie taught 2nd grade at Greenwich Country Day School and at the Middlebury Institute of International Studies in Monterey, CA. Annie is a graduate of Middlebury College and was part of the team that launched the Center for Social Entrepreneurship at Middlebury. In the summer, Annie is a lifelong intern at the Aspen Ideas Festival in Colorado.
Cancellation Policy
Life happens. We understand that there will be times when you cannot attend a workshop that you have registered and paid for. We strive to be as helpful and flexible as possible when things out of your control happen. Please visit our FAQ page for detailed information about our cancellation policy and answers to frequently asked questions about enrollment and membership.