One October a few short years ago, a Midland student named Cruz was visiting a college on his application list and found himself eating alone in the dining hall. Being alone did not bother him, but he was troubled when he saw a group of students leave a significant mess for someone else to clean up. There was food on the floor and a drink spilled on the table. Cruz, always one to be useful, went to the kitchen and asked for a broom and a rag. Unbeknownst to Cruz, staff from the admissions office sat a few tables away and watched this prospective student clean up after people he did not know.


Cruz's story has almost become a legend among some college admissions officers. Every year since then, when I attend the annual National Association of College Admissions Counselors conference, I meet another new college representative who has heard about that Midland student who did something unheard of. "Oh! You're from Midland…," and the conversation begins.


Authentic Work


For the past 25 years, I've lived and worked at Midland School, a co-ed, college-prep, boarding-only, grade 9-12 school with 85 students. The 2,860-acre campus at the edge of the Los Padres National Forest offers students opportunities few schools can. Students can work in the 10-acre organic farm that provides more than 50% of the school's produce needs. They can ride horses, make jewelry in the metals shop, and study chemistry by fermenting food for the school. They can wash dishes, sweep the dining hall, clean bathrooms, sort trash and recycling, and bring slop to the pigs.


One might wonder what teenager in their right mind would sign up for something that hard or think we'd have a revolt on our hands. That's a lot of work, especially when combined with all the tests, papers, and projects that accompany a college prep curriculum.


Initially, many first-year students consider the jobs they do at Midland as something that they have to do. Over time, they begin to lump their work together with their classes. When I ask juniors about their plans for the day, I might hear, "I'm going to finish my history project, cover Jane's kitchen job, and then do math homework." The dish house crew often gels after learning to work efficiently in such a small space, having water fights, and blaring music. By the time students become seniors, they ask for specific jobs; they envision ways to help the crews they lead, have fun, and work efficiently.


Ultimately, students discover the joy that comes from a job well-done because they feel the authenticity of their work. What they do matters, not just as a way to stuff a resume, but because it contributes directly to the well-being of those around them. Authentic work results in progress toward a common goal; it helps make the lives of others better. At Midland, that work continues day after day, year after year, and that consistency allows students to internalize what it feels like to be of use in the world.


Work in the Curriculum


Midland's work program began out of necessity. In 1932 when Paul Squibb moved from Kent School in Connecticut to create a boarding school on the west coast, depression era economic realities forced him (many would say allowed him) to incorporate work into the daily lives of students. Hiring a full team of construction workers or a custodial staff was out of the question. Today, the vestiges of our history remain: students still build fires to heat shower water, and they still do work that contributes to the daily functioning of the school.


Over time, educational philosophy has evolved, but Midland's core–our work program–remains as relevant as ever. Last year, we began, as other schools have, to articulate ways to prioritize mastery of competencies and skills over completion of traditional subjects. Work easily becomes an important component in that conversation.


In our still evolving discussions, Midland has recently identified seven competency domains: Connection to Place and Environment; Diversity, Equity, and Inclusion; Literacy and Voice; Critical Thinking and Analysis; Problem Solving; Craftsmanship; and Being of Use. The last two specifically acknowledge the value of work. Along with study, work provides students one avenue to master important skills like self-advocacy, teamwork, initiative, having a work ethic, persisting through multiple iterations of a project, and understanding and using the proper tools for a task. This year, we have taken a first step and added work to the transcript.


For schools wanting to find ways to help students develop that elusive trait called "character," adding meaningful work to the curriculum could be an important option. The key is to make sure that work is authentic and not just another added task on the to-do list. At Midland, doing dishes and chopping wood are important jobs intricately tied to the school's history, but those same tasks may not be "authentic" (or even possible) in your school. Still, every school can consider what authentic work could look like within the context of their own community. What areas of your campus, program, and community could be most impacted by student contribution? Each school will have different answers, but the impact of authentic work on the community and individual students will be immense.


Work as Antidote


In a world where teenagers face increasingly complex and overwhelming challenges–climate catastrophe, school shootings, political instability, vaping illnesses, depression, and so much more (including college applications!)–the last thing they need is another checkbox to mark. It's easy for them to feel that sense that everything is out of control.


Authentic work helps ground our students. It provides an important step in helping them see the agency they have in their own lives. It allows them to recognize that they have the power to make an impact on their communities.


When we look at work as part of our pedagogical process, it becomes easier to answer the earlier question about why teenagers would sign up for work in addition to traditional studies. These students recognize, maybe only intuitively at first, that Midland gives them more than a college-prep diploma. It may initially seem weird to them, but work is actually a gift that will teach them the importance of feeling authentically useful. Ultimately, that work will be more important than an A in English or Algebra.


Learning to be Useful


Cruz is now a senior in college. I doubt that he ever thinks about that moment in the dining hall. Sometimes when I tell the story, people miss key details and assume that Cruz was trying to make an impression. Nothing could have been further from his mind. He spent a few minutes doing a small amount of work because he knew it would make someone's life easier, and that simple fact made him feel connected.


I don't get to watch Cruz every day like I did eight years ago when he was a freshman. Back then, I saw him struggle with many of the same issues that plague anyone growing up in the 21st century. For a while, he became quiet and withdrawn. But he had a purposeful job that made a difference in someone's life–he lit the fire in my classroom every morning before breakfast so that it would be warm when it was time to teach. Every day, I had a reason to thank someone. Every day, we had a reason to connect face to face. Every day, he did something that mattered. He learned the use of being useful.



---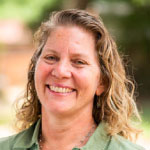 Lynda Cummings is the Director of College Counseling at Midland School in Los Olivos, CA.