Seizing the Day Inside and Outside of the Classroom: The Diamond Curriculum

Santa Barbara Middle School offers students in grades 6-9 a profound educational experience, guiding young people as they transition to adolescence. Through ancient traditions and rigorous academics combined with bicycling and expeditions in the outdoors, SBMS aims to teach compassion, kindness, and self-knowledge and solidify a foundation for a child's self-esteem, self-confidence, and sense of personal responsibility.


Their commitment to providing impactful learning experiences not only within the classroom but in the larger world comes to life the first week of school, grows in daily practices, and culminates with graduation. Instead of holding classes the first week of school, students and teachers bike to a campsite where they set up tents, eat together and sit around a fire telling stories until bedtime. Every school day for the first hour of the morning (Diamond Time), students decide what they want to do before classes start, providing them with an opportunity for self-expression and decision making. Each year they send graduating students out into the world with their Rites of Passage program, where students are honored with speeches from peers, families, and mentors.


What makes SBMS truly unique is their Diamond Curriculum that consists of four essential building blocks: Academics, Creative Arts & Sports, Outdoor Education, and Community Involvement. This curriculum bolsters all aspects of a child's well-being—helping them to grow the intellectual, physical, social and emotional vitality of the whole child.
Academics

The curriculum emphasizes depth, individualization, and engagement. On top of their core program, students have the unique opportunity to stay at Santa Barbara Middle School for 9th Grade. Each year about thirty students take advantage of this opportunity to become the leaders of the school–taking ownership of shaping the community, guiding younger students, and becoming teachers in their own right. The 9th grade program also allows a curriculum for this class to obtain high school level credits, honor units and community service hours, so they are more than prepared for high school.


Creative Arts & Sports
Creative expression and physical challenges are essential to developing energy, spirit, excitement, and community. With this intent, SBMS provides opportunities in arts and sports through electives. Students are able to take up to 11 different electives of their choice each year ranging from Surf Club, Cardboard Art, Robotics, Volleyball, or the Bike Monkeys program. The Bike Monkey Program has been an integral part of the school since 1980 when the first group of students (all girls) were trained in bicycle repair and given the task of aiding their fellow travelers on school expeditions. But Bike Monkeys do more than bicycle mechanics, they are charged with the responsibility to lead. This leadership takes many forms, the foremost of which is service such as fixing flats and broken chains, loading, and unloading bikes during travel, and hauling tools and supplies. Leading also means providing support and encouragement to other students, especially during challenging times on long climbing rides or cold rainy days. It is an honor and a privilege to serve as a Bike Monkey and each year the Monkeys elect a Captain or Co-Captains from within their ranks to lead this special group of leaders. They are a pillar of the Outdoor Education program and have grown from the original small group of eight to approximately thirty students each year, following a tradition of providing service and leadership, and giving back to the community.


Outdoor Education
Santa Barbara Middle School's accredited, Outdoor Education Program challenges students through rigorous expeditions in the wilderness. Beyond the opening week of school, students and faculty embark on adventures throughout the year by bicycle, on foot, and at sea throughout Oregon, Arizona, and such beautiful and wild locations within California such as Morro Bay, and The Channel Islands. The Outdoor Program puts students and classroom teachers on week-long, team-building journeys that lead to even more meaningful classroom relationships. Students will cook for over 200 people, bike through all types of weather and sit around a campfire at the end of a long day's ride telling stories, singing songs and giving thanks to those who got them to this point. Responsibility, accountability, and physical challenges are all a part of the growth students go through while on these expeditions and they carry these lessons with them for many years to come.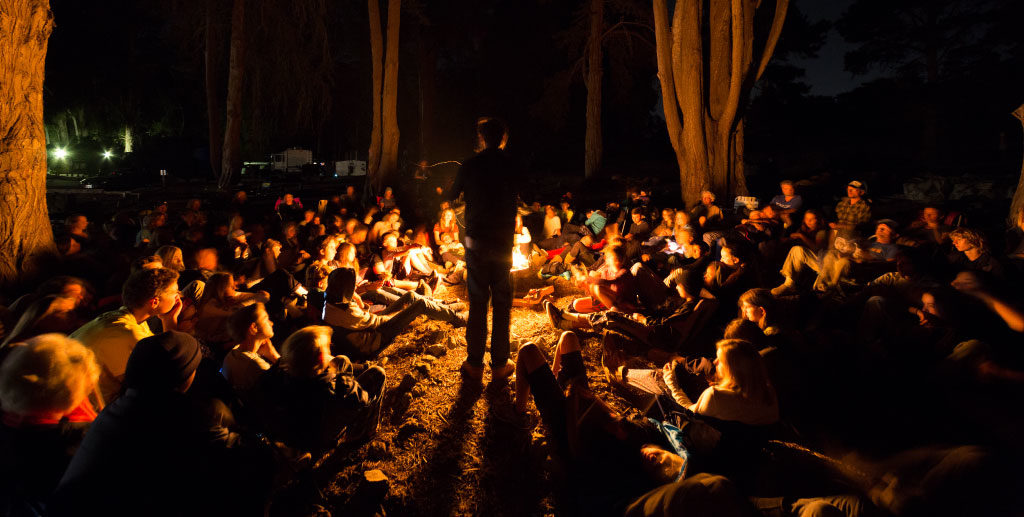 Community Involvement
Community service provides awareness of social issues and Santa Barbara Middle School students gain exposure to many career possibilities and responsibilities through their annual career study week. Students spend one week per year participating in these programs. Sixth grade students are exposed to many career and community opportunities through a series of field trips, guest speakers and service activities. Seventh and eighth graders serve in local businesses of their choice. Ninth graders can earn hours toward their high school community service requirement by volunteering with organizations such as Direct Relief, Boys and Girls Club of Santa Barbara and Organic Soup Kitchen. This program is designed to teach students self-reliance, concern for peers and the responsibilities of a career while helping them gain an awareness of social issues. Also, the Community Action Club creates service-based projects aimed to engage with the local community and beyond. Students decide which social issue they'd like to get involved with, and brainstorm ways to affect change. These experiences develop self-assuredness, along with a clarity of purpose that is invaluable.


Sending Students Out Into the World
From the robust offerings of electives, Diamond Time, career studies, community service, and outdoor education, to the deep dives in academic classes nurturing students' intellectual vitality, a Santa Barbara Middle School education is built to draw out the passion, resilience, and unique potential of every child and teacher. There is a significance in feeling a sense of belonging, of being authentically known, of being part of a community, and ultimately, of being loved.



---
Merritt Bauer is the Communications Manager at Santa Barbara Middle School. Founded in 1976, Santa Barbara Middle School is a co-educational school that offers students in grades 6-9 a profound educational experience combining Academics, Creative Arts & Sports, Outdoor Education, and Community Involvement.