Redefining Power

In Brené Brown's latest book Dare to Lead, she explores a host of daring practices for today's leaders. In one segment, she cites the work of Just Associates (and their publication Making Change Happen: Power) and discusses the role of collective empowerment—ways we can lead more collaboratively to achieve stronger outcomes. She breaks this type of empowerment into three elements:

Power with: finding common ground among difference to build collective strength
Power to: giving everyone on a team agency and acknowledging everyone's unique potential
Power within: recognizing differences and respecting others from a place of self-worth and self-knowledge while challenging assumptions and the status quo
As I read this segment in Dare to Lead, I immediately thought of the powerful collaborations I have through the CATDC. While I work across a range of teams and feel grateful for every partnership, one team who comes to mind is comprised of Shoba Farrell, Assistant Dean for Teaching and Professional Growth at University High School; Juna McDaid, former Middle School Head at Sonoma Country Day School; Tamisha Williams, former Dean of Adult Equity and Inclusion at Lick-Wilmerding High School; and me, facilitators for Aspiring Women Administrators of Color.

Deep Collaboration and Powerful Workshops

Everything about our collaboration has happened through a series of causes and consequences, heartfelt intention, and common values. From Juna and Shoba's friendship that grew out of Leadership 101; to Shoba and I meeting through a mutual colleague; to Tamisha reaching out to me about a CATDC post she read; to the four of us gathering for a first meeting that transformed into a powerful bond—ours has been a collaboration that deepens and grows with each interaction. And when we offered our Aspiring Women Administrators of Color workshop last November, we were able to share this power with our phenomenal participants.

Our workshop built upon a previous presentation at the 2017 People of Color Conference, wherein 100+ women of color gathered to learn more about how core values, mantras, one-minute messages, resume-building tips, and professional networks could be instrumental along the pathway to leadership. In our collaborative work, our team not only recognized the ways women and people of color are largely absent from senior leadership positions in independent schools, but that pathways for leadership, support networks, and professional communities are just as rare. Women of color, in particular, need greater representation in our schools' senior positions, and our workshop offered the same skill-building and support the four of us give to one another: time to process our professional journeys, space for honest conversations, a community who serves as a safety net and guiding force as we navigate our present circumstances and our "What's next?" questions.

Modeling Empowerment

In my role as an educator, I live by the mantra that I would never ask others to do something I haven't done myself, what we call modeling in teaching parlance. And in my collaboration with Shoba, Tamisha, and Juna, we model for one another what strong networks and healthy relationships can look like. We share power as a team, recognizing our different strengths and skill sets. We give one another agency through our high levels of trust, ensuring that when we lead together, we let one another shine. We challenge the status quo and one another as we discuss the most pressing issues of our moment, most notably, what it means for women of color to have increased access and support in school leadership. We care deeply about one another, and that care comes through in the workshop spaces we create.

This fall, 16 aspiring women of color leaders joined us at Lick-Wilmerding High School, and in that space, we learned about one another; we gave participants time to explore their core values and personal messages through creative activities; and we offered advice on the realities of seeking greater leadership within a dominant system, discussing everything from resumes to salaries to the job roles we most desire. Participants were able to offer their honest and most authentic selves to the experience, and when the day ended, we knew we had built a powerful community, one we wanted to empower further in the future.

Sharing Power

I seek so much solace in the CATDC, and partnerships and workshops like these confirm the indelible impact of this organization: one that invites meaningful collaboration, hands-on work, and access for everyone to bring their full selves to our school sites. As you look at the months ahead, consider taking time to reflect on your closest collaborative partners and determine ways you can empower those within your teams, ensure everyone is able to bring their unique talents to the table, and acknowledge your differences as your greatest asset—challenging what is for a world that is better for everyone.
---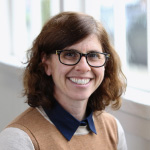 Lori Cohen has worked in education (both public and independent) for two decades as a teacher, instructional coach, and school leader. She currently works as an independent school consultant for Bright Morning Consulting, supporting schools in a range of capacities. With the CATDC, Lori serves as coordinator for Teaching Foundations, a program that brings her joy and professional rejuvenation. In all her work, Lori actively engages in equity and social justice, striving to offer access and pathways for all school stakeholders to thrive.