Adult Learning That Lasts

At the CATDC, we deeply believe in the power of bringing people together to share ideas and reflect on their learning experiences. These foundational values and practices are steeped in research and can be most vividly seen in a report compiled by The Learning Institute. Over the years, I have given a great deal of thought to what Linda Darling-Hammond refers to as sustained duration, one of the necessary elements of effective professional development. I imagine that we can agree on the why: why upon completion of a workshop, it is crucial for teachers and administrators to "practice and implement newly learned strategies over time." And, I am sure we all struggle with the how: how can schools create environments where teachers, enthusiastically returning from a learning experience, have the time and support to practice new ideas and strategies that benefit students? What organizational systems and practices would need to be in place so that colleagues could support each other when they are back at school?


Meaningful, Practical, and Supportive
In my previous position as an independent school director of teaching and learning, I knew that in order for professional development to be meaningful, practical, and supportive, I would need to create an environment for learning experiences of sustained duration. While knowing this, I wasn't always successful. I created routines to help deepen learning: engaging in follow-up conversations with teachers, asking for feedback and their plans for next steps, and instituting a reflection requirement as part of their evaluation in which they had to document their learning and plans. I also led faculty meetings that featured what I called: "pro-grow share outs," and encouraged department chairs to make time for conversations about growth. These practices helped, but I eventually realized that we needed a more holistic approach, a shift in culture–an organizational understanding of and commitment to professional learning of sustained duration.


A Shared Vision
First and foremost, professional development needs to be intentional. A teacher or administrator should be able to articulate how their learning goals relate to the students' needs and the school's needs and answer the question: How does your professional development journey align with your school's mission, strategic plan, and yearly goal? This holistic approach to an educator's professional learning journey within the context of their school may in fact support an environment of sustained professional learning. Joining with colleagues who have a shared goal allows for shared planning and shared wisdom. For example, observing each others' classes or meetings and providing feedback can deepen learning that began with a professional learning experience. An environment that supports a culture of professional learning and growth is more likely when there is a shared vision.


What Does Sustained Duration Look Like?
As the CATDC creates programs with the end goal of sustained learning we imagine and hope for more integrated approach such as this: At an independent school in Los Angeles, based on community-wide survey results, administrators decide it is the right time for their school to focus on mental health and wellness. During goal-setting meetings at the start of the new school year, teachers are encouraged to participate in professional development, with a suggested action item to attend the CATDC's Ongoing Program, Mindfulness in K-12 Education: Teacher Training in Mindful Self-Regulation. Several teachers take advantage of this opportunity. Dave Mochel, the facilitator, does an outstanding job; his workshops are active, reflective, and feedback oriented. Each element of effective professional development is woven throughout his sessions, and he also encourages participants to practice tools and strategies back at school. After the workshop, one teacher tries a new mindfulness routine to help his students settle into their reading assignment. This teacher is visited by a colleague who wants to help her young students learn self-regulation techniques, and they share tips, feedback, and resources on cognitive and executive functions. The class visit and follow-up conversation is intentionally supported by the division director, who was part of the initial goal conversation. Lastly, during a school initiative meeting, the division director shares this professional learning story with the Head of School. Students have new coping tools and they are learning!


Returning to the Research
I invite you to share the research on effective professional development with your school leaders. I do believe that if and when school leaders are in the know, they will incorporate necessary structures in terms of time and space for continued conversations, practice, and feedback. Beyond the CATDC's dynamic array of Ongoing Programs, we continue to explore ways to provide more structure for sustained duration of learning between and beyond the sessions of our ongoing groups and intensives and want to support schools to do the same. We know the value of in-person professional learning, and we also have the means for follow-up conversations making use of technology and additional networking opportunities. We also hope you will consider creating your own approaches for sustained learning. Next time you are at a CATDC event, calendar a reflection conversation with a new friend. Try that new technique and let them know how it went; in this way, you can make your time off campus that much more meaningful and impactful.


How does your school create systems for ongoing learning? Share your ideas in the comment section!


---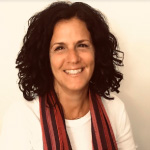 Lisa Gumina is the Southern California Associate Director of Programs at the CATDC. Working alongside a wide range of students elementary through high school has reinforced Lisa's strong belief that trusting relationships are at the heart of all learning experiences. Prior to the CATDC, Lisa taught and led at Vistamar School, serving as both a Humanities teacher and the Director of Teaching and Learning, creating programs around teacher evaluation, support, and growth. Working with faculty reinforced her belief around strong collaborative relationships. Lisa learned early on in her career to take advantage of professional development opportunities for the sake of improving her craft as teacher and coach, while building community with fellow educators.