A Letter from Executive Director, Lisa Haney
As I prepare to enter my seventh year as Executive Director of CATDC, I feel proud of our evolution as an organization and excited about what is to come. At the heart of my leadership is my belief in the power of education to transform young people, to help them become more thoughtful, skillful, and creative, and better able to build a more just and harmonious world. Independent school teachers and administrators are uniquely positioned to provide this kind of transformative education. Your work with students and their families is more important than ever, as is your ongoing professional development. Thank you for continuing your own learning with CATDC.


Building relationships between individuals and fostering collaborations across school communities has always been a hallmark of our organization, and with a return to in-person programming as well as the greater flexibility and accessibility provided by our online and hybrid programs, we are poised to further extend and deepen our impact.


Our growing team has worked with over 70 different facilitators and coaches/consultants this past year including many new to CATDC; through sharing their expertise with colleagues across schools, they have a unique opportunity to give back and develop as professionals. Fall and spring surveys, round table discussions, and visits to schools across the state have helped us to develop programs to meet educators' most pressing needs and prepare for new challenges emerging in our dynamic field. With two outstanding regional directors leading program development, I will be able to turn my focus toward deepening our relationships with member schools as well as collaborating with organizations such as the Redbud Resource Group, POCIS, BATTI, and CAIS equity, spark innovation, in furthering our mission to center equity, spark innovation, and foster impactful teaching and leadership.


Additional support and guidance from our talented and dedicated board means we are well positioned to explore new possibilities: increasing and diversifying our offerings and approaches to program delivery, bolstering membership in California, and bringing more CATDC programming to like-minded schools and individuals beyond the state. Humbled and honored to be at the helm of such an organization, I remain deeply grateful for the many ways you have contributed to our success.


---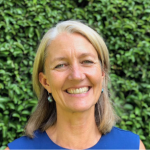 A lifelong educator of youth and adults, Lisa Haney believes deeply in the transformative power of education. She began her career focused on international and multicultural education, teaching in Japan, Mexico and Martinique before landing at the Athenian School in Danville, California. In her 25 years at Athenian she served in many roles, including international program director, literature teacher, and humanities department chair, before becoming dean of faculty development and a member of the leadership team. Beyond Athenian, Lisa has engaged in teacher education through UC Berkeley Extension, as well as the Berkeley and San Francisco Unified School Districts, and was selected for a year-long fellowship by the US State Department in 2006 to support teacher development in Tanzania. Lisa holds a B.A. in English from the University of California, Berkeley and a M.A.T. from the School for International Training, Vermont. Lisa is incoming board chair at the Berkeley School and an enrolled student in a Masters/PhD program in community psychology at Pacifica Graduate Institute.
---