The Importance of Hiring Well

Head-Royce, along with many Bay Area Independent Schools, prioritizes hiring a top-notch, diverse faculty in order to support our mission, ensure effective teaching and learning, and meet the needs of our student body. This priority is corroborated by trends observed by NAIS, and the fact that over 40 schools from California sent representatives to the first annual Hiring for Diversity Job Fair co-hosted by Head-Royce School and East Ed.


This event was organized as a response to the widespread sentiment that we all want and need a diverse faculty—one that reflects the richness that we see in our cities and in our students. The Bay Area Independent School Teaching Access Consortium (BAISTAC) came together organically as Deans of Faculty and Academic Deans were discovering that it was hard to find quality candidates who represented the many races, cultures, ethnicities, and family structures we hope to more substantially reflect in our schools. In October, BAISTAC sponsored a panel discussion to introduce independent schools to potential teachers, tell them about what it is like to teach in independent schools, and explain how and when independent schools do their hiring. BAISTAC also hoped to put on a hiring fair but found it challenging to organize such an endeavor given time constraints.


Luckily, Crystal Land, Head-Royce's Head of School, was sitting next to Randolph Carter, Director at East Ed, at last summer's Equity as Excellence Conference, and a generative conversation followed. Randolph shared the history and details of East Ed's East Coast Hiring for Diversity Fair—and his hopes for a West Coast partner. Crystal recognized the great opportunity and the alignment with not only Head-Royce's goals, but the larger Bay Area's goals to bring more diverse talent to our school. A new partnership was created.


Last November, in an effort to set hiring managers up for success, East Ed first sponsored a short session, chock-full of resources and sharing of best practices among the local schools. As soon as the Northern California Job Fair for Diversity was advertised, many schools signed up, eager to be part of the inaugural event. February's Hiring Fair included 40 schools and roughly 75 candidates. The morning began with a panel featuring an Assistant Head of School, a Dean of Equity and Inclusion, a director of Civic Engagement, and a classroom teacher, during which the panelists shared their thoughts about diversity, equity and inclusion—the challenges and the rewards—in an independent school. Following the panel and lunch, candidates went to the Fair to meet with representatives from all the schools, share their resumes, network, and enjoy some swag.


As this was the first of its kind, we learned a lot from the experience. It is a much-needed event on the West Coast, and in the Bay Area in particular. Schools and candidates found the day useful with a majority of the candidates surveyed saying panel helped them better understand the work of independent schools. Participants also enjoyed getting to explore a wide range of schools, and appreciated meeting school reps face to face. We are excited by the positive support for the event and have already begun to plan for next year!


---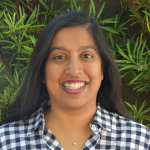 Shahana Sarkar is the Dean of Academics and Community at Head-Royce School in Oakland. She has served the school in many ways in her 17 years at Head-Royce. Entering as a Middle School math teacher in 2002, Shahana has taught both Middle School and Upper School math, has served as the Director of Scheduling, the Math Department Chair, the Applied Institute STEM Director and the Interim Dean of Faculty before stepping into her role as DAC. With deep experience at Head-Royce, she loves problem-solving, a creative collaboration, and systems thinking. As a department chair, she also collaboratively helped to rethink the Math Department's approach to teaching assignments. The department now prides itself on its modeling of shared courses and cross-divisional assignments for all teachers.