Summer Reading List: Emotional Resilience, Deep Learning, and Culturally Responsive Teaching

LEADERSHIP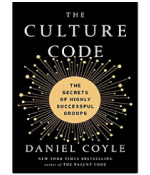 The Culture Code: The Secrets of Highly Successful Groups
Effective schools have collaborative environments where teachers and staff are free to be innovative. As a leader, you are crucial in creating a culture that is safe, honors vulnerability, and has a clear mission and purpose. This book by Daniel Coyle offers a roadmap for creating an environment where innovation flourishes and problems are solved as a team. Take inspiration from numerous examples of successful teams and imagine how your school team can begin building more cohesion and trust.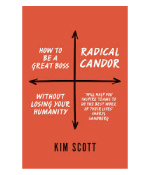 Radical Candor: Be a Kick-Ass Boss Without Losing Your Humanity
Radical Candor by Kim Scott offers a practical guide to managers who struggle with giving feedback to their teams. Taken from years of the author's experience, and distilled clearly giving actionable lessons to the reader; this book shows managers how to be successful while retaining their humanity, finding meaning in their job, and creating an environment where people both love their work and their colleagues. This is a great resource for educators looking to find meaning in their job and create an environment where people both love their work and their colleagues.
---
SOCIAL AND EMOTIONAL LEARNING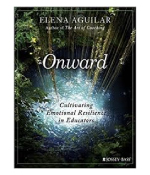 Onward: Cultivating Emotional Resilience in Educators
This new book by Elena Aguilar tackles the problem of educator stress and provides a practical framework for taking the burnout out of teaching. Stress is part of the job, but when 70 percent of teachers quit within their first five years because the stress is making them physically and mentally ill, things have gone too far. To learn more from Elena Aguilar this summer, we invite you to join the CATDC for Transformational Coaching Summer Symposium, an exciting opportunity to develop new approaches, to strengthen adult relationships, to improve professional practice, and to build the kind of school community that best serves our students' learning.
The Onward Workbook: Daily Activities to Cultivate Your Emotional Resilience and Thrive
This companion workbook to Elena Aguilar's Onward augments the text with practical exercises, coaching, and step-by-step walkthroughs of beneficial practices. Deep introspection allows you to verbalize your feelings, name your challenges, and identify the tools you have and the tools you need—from there, you'll explore each of the 12 Key Habits and learn how to put them into practice every day.
---
DIVERSITY, EQUITY, AND INCLUSION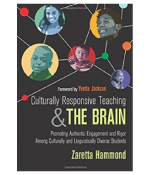 Culturally Responsive Teaching and the Brain
This book by Zaretta Hammond draws on cutting-edge neuroscience research to offer an innovative approach for designing and implementing brain-compatible culturally responsive instruction and is appropriate for all teachers at any experience level who strive to make their classrooms a safe and rigorous place for all their students. In clear and accessible prose, Hammond prompts valuable self-reflection and offers the neuroscience behind important classroom dynamics like trust, student-teacher relationships, and our students' stress levels.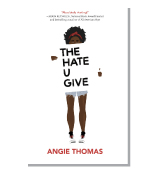 The Hate U Give
This book by Angie Thomas is a must-read for educators as well as recommended reading for students. The Hate U Give is a powerful YA novel that explores racism and police violence. To learn more about this important book and to hear directly from the author listen to NPR's interview with Angie Thomas. She discusses her experience with code switching while attending a mostly white college and how this informed her creation of the novel's protagonist, Starr Carter, who attends a largely-white private school.
---
CURRICULUM AND PEDAGOGY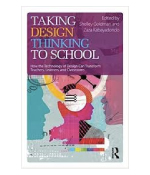 Taking Design Thinking to School: How the Technology of Design Can Transform Teachers, Learners, and Classrooms
This book edited by Shelley Goldman and Zaza Kabayadondo uses an action-oriented approach to reframing K-12 teaching and learning, examining interventions that open up dialogue about when and where learning, growth, and empowerment can be triggered. While design thinking projects make engineering, design, and technology fluency more tangible and personal for a broad range of young learners, their embrace of ambiguity and failure as growth opportunities often clash with institutional values and structures. Through a series of in-depth case studies that honor and explore such tensions, the authors demonstrate that design thinking provides students with the agency and compassion that is necessary for doing creative and collaborative work, both in and out of the classroom.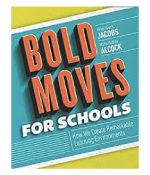 Bold Moves for Schools: How We Create Remarkable Learning Environments
Heidi Hayes Jacobs and Marie Hubley Alcock propose a new approach to pedagogy as the basis for the bold moves teachers and leaders need to make to engage all learners and prepare them for now and into the future. They examine every aspect of K–12 education, including teacher roles, curriculum, instruction, and assessment, as well as the physical and virtual learning spaces that engage 21st century teachers and learners.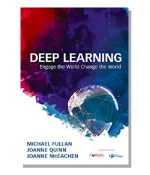 Deep Learning: Engage the World Change the World
Deep Learning by Michael Fullan, Joann Quinn, and Joann McEachen has claimed the attention of educators and policymakers around the world. This book not only defines what deep learning is, but takes up the question of how to mobilize complex, whole-system change and transform learning for all students. The comprehensive strategy outlined in this book incorporates practical tools and processes to engage students, educators, and families in new partnerships and drive deep learning.