Of Bake Sales, Menstrual Pads, and the Oscars

It was mostly a typical Wednesday afternoon at Oakwood School. During the lunch break, a group of girls held their weekly Girls Learn International (GLI) club meeting in English teacher Melissa Berton's classroom. They discussed the latest developments and next steps for The Pad Project, their venture to install sanitary pad machines in rural communities to promote educational equity for all students. There was an update on the pad machine installed in Kathikhera, India, and discussion about how they would help the women of this enterprise cope with the inevitable increased demand for their pads, while keeping them affordable. That was one of the few hints at what had transpired just three days earlier, when this machine and the humble women of this tiny village garnered a global spotlight as Melissa punctuated her Oscar acceptance speech with the unforgettable line, "A period should end a sentence, not a girl's education!"


While we are obviously thrilled for Melissa and the students of The Pad Project for this unbelievable accomplishment, it was never about winning an Oscar. Flashback seven years and you see the same setting as the nascent GLI Club assembled with their teacher in her classroom during lunch to discuss barriers to equitable education for girls in different communities around the world. They would be invited to participate in a GLI delegation traveling to New York to attend the UN Commission on the Status of Women where they would learn about this particular issue of restricted and loss of access to education for girls due to menarche, the onset of menstruation. They would learn about a machine invented by Arunachalam Muruganantham that could sustainably produce affordable, biodegradable sanitary pads and partner with the grassroots organization, Action India, to identify and work with communities that could benefit from this enterprise. And bake sales and yogathons would ensue to raise money to install a pad machine that would provide at least a year's supply of raw materials to help girls stay in school, and develop a sustainable business venture for the women of Kathikhera. Then they dared to try and create a movement by making a film that could help spread greater awareness, which became Period. End of Sentence.


This small group of students and their teacher have catalyzed a global conversation and continue to impact the movement for menstrual equality internationally and domestically. While the Oscar and the film have drawn attention to the global issues with affirmation from UNICEF, they have also quietly fought to abolish the appallingly ubiquitous "pink tax" inequity still in place in the vast majority of these United States, including California. They recently traveled to Sacramento to lobby at the hearing for Assembly Bill 31, which would finally remove the levy on menstrual hygiene products in our state. For these activists, the journey has only just begun.


As an engaged independent school educator, it is very likely you have sat in a similar lunch club meeting with a group of students, supporting their ideas to save the world, irresistibly drawn into their unbridled enthusiasm and idealism. I hope you are invigorated by this group of women who dared to empower themselves and others across the globe in the face of hegemonic patriarchy. You should relish in this award too. As Melissa made clear in her acceptance speech, "I share this with teachers and with students around the world." So, thank you for being who you are and making that difference.

---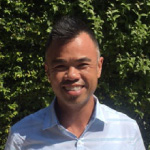 Phu Tranchi is the Director of Experiential Learning at Oakwood School in North Hollywood.