Cultivating the Leadership Seed: My Journey with the CATDC

Debbie Reed began the first meeting of the Leadership Fellows Program with a story of her journey, when she was a girl, cutting out pictures of mythological creatures from magazines, knowing that someday she would use those clippings when she became the teacher she aspired to be. That journey would take Debbie through numerous schools, where she would evolve from teacher to leader and eventually head of school, stewarding every program she touched towards success. Serendipity helped connect me to Debbie for the first time a few years ago, when her journey and mine intertwined as part of a WASC-CAIS accreditation team in Northern California. In our brief time together, I learned so much about leadership and I was overjoyed when I learned she would be a co-facilitator for a special leadership program with the CATDC; I made a beeline for her when we locked eyes the morning of day one of the Leadership Fellows Retreat.
She gave me a broad gushing smile and brimmed with giddy pride and excitement that I was participating in this grouping of educators whom she deemed destined to be future heads of school. "I am so glad you are with us, Kalyan," she said, and with that, I greeted a few others and settled into my seat. She called our attention and introduced another iconic legend in the independent school world, Reveta Bowers, former Head of The Center for Early Education, as the program's co-facilitator and they began with the first activity, inviting us to share our stories: Who were we? Why did we become educators? Why were we there?
I hadn't prepared and struggled to pay attention in the beginning as I became self-conscious and nervous around heavyweights in the realm of independent school education. There was Liz Willis, the Academic Dean at Oakwood School, who exemplifies what happens when equal parts of positive energy, wit, and eloquence are combined into a single person; Terry Lee, the Associate Head of School at the Nueva School who drew pearls from an endless well of wisdom, which explained his profound acumen in all things related to navigating a school towards excellence; Lauren Windom, the Director of Admissions at the Brentwood School, whose journey spoke to the importance of loyalty and connection, a leadership seed sown when she was a student at the very school she would eventually return to lead. I struggled to think about my own catalyst and wondered what it was that brought me to the CATDC.
I was the Dean of Equity and Inclusion at The Athenian School, and earlier last summer, the gossamer germ of leadership took root in my heart, after I whispered a soulful prayer for clarity in front of an ancient Persian shrine in the holy city of Mashshad, Iran. I returned to this sacred temple in Iran to again ask for directions at a professional crossroads, just as I had nearly two decades earlier when I left a promising legal career for an uncertain one in education. This time, it was achievement, specifically the creation of the Inclusion Dashboard Consortium and feeling I had more to offer but not simply in the area of Diversity, Equity, and Inclusion. With this prayer of doubt, I entered a spiritual state and when I awoke from my deep meditative trance clutching my tasbih (prayer beads), bathed in the green glow emanating from the shrine, I knew that I was now to embark on the road towards headship in the independent school world. A few weeks later, I would find myself in the sharing circle of Leadership Fellows, struggling to articulate why I was there.
I listened to one transformative narrative after another and was humbled: Thaddeus Reichley of the Mark Day School, told us of his serendipitous cross-country journey involving juggling and marketing curriculum that led to a poetic transformation in which he became Head of the Mark Day Lower School. Now he juggles curriculum and marketing as a key school leader. Ruth Bissell, the Head of the Upper School at San Francisco Day School, was a natural in our cohort, and she invoked the diverse mirrors in the room to answer her candid questions and like fairytale glass they foretold of her future headship—and if you asked my cousins, former classmates of Ruth, they would not be surprised, since in their estimation, her leadership seed was sprouting back when she was a student in high school. Finally, there was Greg Gonzalez, a brilliant leader whose story spoke to his enormous heart, and the fact that he as a Chair of the Upper School History Department at Harvard-Westlake he was personally recruited by the President of his school to participate in this leadership cohort.
It was my turn to tell my story, and I began speaking without any plan, starting by reflecting on my mother who spent her whole life teaching. I shared a vignette about her multilingual proficiency and how it meant that she would have droves of young people at our apartment, after school, throughout my childhood, tutoring and designing lessons to help them read and learn basic math so that they could succeed. She didn't charge them anything, and I remembered being annoyed that I always had to share my mom with other kids. Later, I graduated from Berkeley and finished law school earning a prestigious spot as an associate at Orrick, Herrington, and Sutcliffe only to make an unexpected career switch into education. I first taught at public schools, and soon became an administrator in the charter school world, then worked for for-profit schools before landing at The Athenian School a decade ago. I finished with my own profound realization, verbalizing my truth for the first time that serving students had become my life, so much so, that my own children have to share me with all the young people I mentor and teach. In becoming this type of educator, I had become my mother.
We would have four more full-day sessions. Beyond the wisdom imparted by Reveta, a master guru in problem solving, and Debbie, an acute analyst in weighing all factors in any given scenario, the group was given time to work with the best of the best. In our second session, we were stewarded by Jim Pattison, the Senior Advancement Officer and Director of Major Gifts at Harvard-Westlake. His presentation helped a tendril break through the seed in my mind, and by the time he finished speaking, I felt for the first time a clear direction in my own work with advancement. Ron Kim, who analyzed the charter school landscape, and Robert Evans, someone who I've admired for a long time, clarified the importance our schools play in recruiting for diversity. In our final session, the living legend Coreen Hester took our collective breath away as she systematically broke down governance, gave us a rich reading list and facilitated a session on managing boards that I imagine should be part of every head of a school's primer.
Leadership Fellows gave us invaluable theory, but also the opportunity to practice. Beyond the reading of resumes and specific advice on cover letters given to each of us by Reveta and Debbie, the true validation of this cohort was in the fact that in our last reflective session, we learned that for many of us, the seeds within us had been nurtured so deeply that we were actually moving into roles of greater leadership, growing nearer to our goal of headship. Sheika Luc, who had been the Director of Admissions at Katherine Delmar Burke was transitioning to divisional headship at another Bay Area School; my fellow Athenian Colleague, Amy Wintermeyer, the Director of College Counseling, a calm voice of reason, balance, and poise at our school, would be the new Upper School Head at Athenian; and I was joining her as part of the executive leadership of the school, as Athenian's first 6-12, Director of Teaching and Learning.
Divine Direction led me to open the CATDC door in the first place. And my mother provided the reason why I walked in her educational footsteps at all. But it was Leadership Fellows that helped me to see it. Surrounded by like-minded peers, and coached by experienced stalwarts in educational leadership, I was cultivated by the Leadership Fellows to discover what my inner-seed needed and given the nutrients that helped me to grow into the leader I dreamed I'd become.
---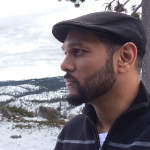 Kalyan A. Balaven is the 6-12, Director of Teaching and Learning at the Athenian School and is also an instructor with the Blend-Ed Consortium. He served as the Dean of Equity & Inclusion at Athenian prior to assuming his present responsibilities. Kalyan also currently leads the Inclusion Dashboard Consortium on the West Coast and presents regularly on topics ranging from developing cultural competency to facilitating difficult conversations around privilege. He is the recipient of the Eukel Trust Teacher Award in 2017, A Better Chance Scholar (ABC) Educator award in 2016, and a People of Color in Independent Schools Instructor Award.