A Letter from Board Chair, Dr. Tashon McKeithan
I was invited to the CATDC Board in 2018 as the first non-Head of School Trustee to the Board and now in 2023 have just completed my first year as Chair. I am deeply honored to be part of such an important organization, vital to the transformation of the educational landscape. As CATDC approaches its 25th year, it continues to provide professional development experiences for educators in order to have a positive impact on the student experience. To all of our member schools, thank you for partnering with us to make 2022-2023 a year of growth and development as an organization in service to students and educators in a rapidly changing world.


I am especially proud of our work on our Strategic Plan. We are about half way through our five-year plan focused on four priorities: equity at the center; educator growth; connection and belonging; and organizational sustainability. We have put in place new structures and programs to better serve educator learning, to deepen and extend our community, and build vital relationships that amplify individual growth.


At CATDC, equity is a core value and a strategic priority. The Board adopted an equity statement in 2022, as a testament to our unwavering commitment to social justice and action. The Board, CATDC staff, and each member of the CATDC community is deeply passionate about creating more just and equitable schools. We work tirelessly to support schools to eradicate the barriers of access to the underserved and underrepresented. Through our community conversations, ongoing programs, and intensives, it is our goal to have every young person and adult in our schools be supported to thrive.


As our nation is becoming more divisive, CATDC continues to provide educators with a space for connection and belonging. Our programming is designed to be proactive and responsive to the needs of educators to advance inclusive practices. We look forward to creating positive change together in the year ahead. 


---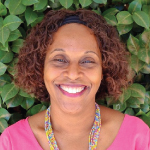 Tashon McKeithan, Ed.D, is the Lead Director of Early Care and Education at UCLA. She formerly served as the Executive Director at The Child Educational Center in La Canada-Flintridge, California. McKeithan holds a master's degree in early childhood and elementary education and a doctoral degree in K-12 educational leadership. She previously worked as a teacher and administrator in public schools in New York City and has spent the last eleven years as an administrator in independent schools in Southern California. She currently serves as the board chair for CATDC.
---