We Can't Afford Not to Discuss Current Events

We discuss current events just about every day in my eighth-grade U.S. history classes. Sometimes it takes five minutes, when I bring in an article I think students should know about – on taxes or technology, oral arguments or international diplomacy. Sometimes it takes the whole period, especially on Fridays when students give presentations and field questions on the news.
Some days are easier than others for talking about the news. Natural disasters overwhelm. Mass shootings horrify. Politicians disappoint. On slower news days, I try to share an uplifting story about a scientific discovery or a kind human action, simply to counteract the compassion fatigue that can come from reading the paper each day.
Yet students need to know what's happening, the beauty and the tragedy, so that they can become informed and active citizens.
And, even more so – sometimes to my surprise – they want to know what's happening.
A month ago, one girl asked why we hadn't been discussing the wave of sexual harassment allegations. After all, she said, we talked about the #metoo hashtag when it first appeared in October, and she and her classmates often find articles about women's issues around the world.
"I was trying not to inflict them on you!" I said.
"But we hear about them every day and we need to understand them," she replied. And she was right.
When dealing with such inflammatory issues, I often look for an article that analyzes the phenomenon as a whole instead of reporting unseemly details. Similarly, with controversial political questions, I try to take a pro and con approach – whom will this plan hurt, and whom will it help? – rather than ask students to argue about how they feel.
Videos can further the discussion, too, because they offer perspective from someone besides me. Lately I've found the Wall Street Journal especially useful for its short, topical, impassive explanations of political moves.
Over winter break, I thought I might feel relief when reading the paper each morning, because I wouldn't have to consider which article I would discuss with my classes. Instead, though, I felt regret that we wouldn't be able to dissect everything that was happening, and I kept sending myself links that would still be relevant in January.
Whether we teach history, English, world languages, the arts, science, or math, the world knocks on our classroom door. On my most optimistic days, I don't sigh when I read the paper. Instead, I remind myself how lucky we are as teachers to be able to engage with our curious students on the issues of the day – which I sure hope they solve as the voters of tomorrow.
---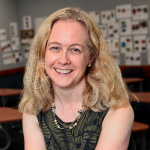 Sarah Cooper teaches eighth-grade U.S. history and is Dean of Studies at Flintridge Preparatory School in La Canada. She is the author of two books, Creating Citizens (Routledge, 2018) and Making History Mine (Stenhouse, 2009). Sarah speaks at conferences and writes for Education Week, MiddleWeb, CommonLit and other teaching publications. She recently received a Margot Stern Strom Innovation Grant from Facing History and Ourselves, for a project on inspiring empathy through spoken word poetry.