"Make Box Brownies": A Summer Pilgrimage

For educators, summer means many things: catching up on all the TV and books one missed during the school year; taking vacations; sleeping in; engaging in enriching and rejuvenating professional development. In addition to preparing for CATDC's Teaching Foundations program, I'm participating in an activity my coach and I call a "summer pilgrimage."
Sometimes good professional development—the kind that helps augment one's practice in the classroom, in leadership, in schools as a whole—also needs to be good personal development. As research about mindfulness and wellness floods online media sources, we know that if we don't engage in good habits of self care, we can't give to our schools (students, faculty, staff) in the ways we would most like.
After completing my first year in administration, I needed a way to recharge this summer that allowed me the energy to prepare for what comes next. I love the work I do, and I am thrilled to be working with teachers this summer. And…I also need some play time.
As I was reflecting on my school year with my coach, we talked about how to invite more play and spontaneity into my days during June and July. And thus, the summer pilgrimage came into being.
The summer pilgrimage sounds more lofty than it is. It's a low-to-no cost way to do something each day that invites possibility into my routine. Here's how it works:
Make a List
On a sheet of paper, I made a list of things I could easily do that day (or within that week, if I'm being completely honest). The list ranges from "go to a museum" and "reach out to a friend you haven't talked to in a while" to "make box brownies," "meditate for 20 minutes," and "eat an indulgent meal." The goal is that the list contains activities I'd like to be doing, but don't always make time for—activities that give me energy and bring me joy.
I cut that list into strips of paper, folded them, mixed them up, and put them into a small jar by my bed.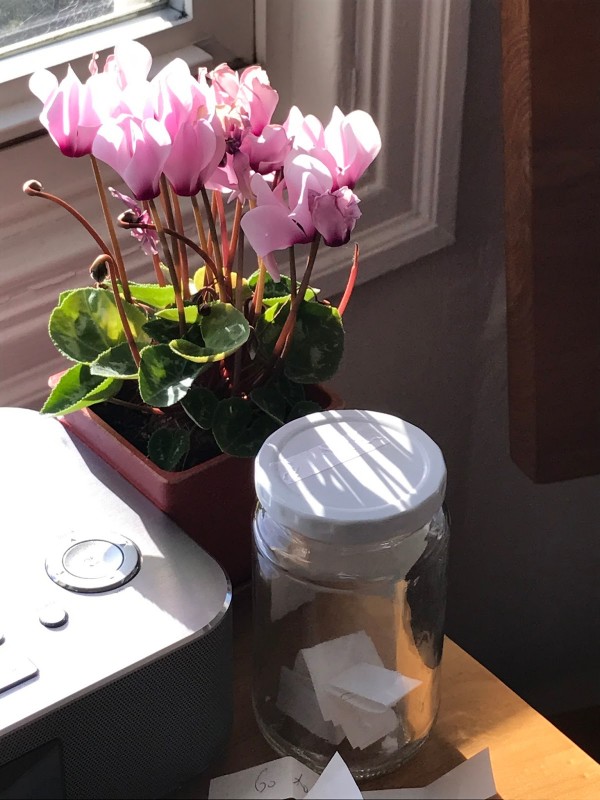 Each morning, I pull out a slip of paper and strive to do what's on the paper. I say "strive" here because life happens; we can't get to everything sometimes, but just inviting that possibility into my days makes me more attuned to what matters to me–the simple and the profound.
Voila, I have a summer pilgrimage!
Why do I call it a summer pilgrimage? The word "pilgrimage" connotes something sacred and religious, and I see these daily activities as part of a spiritual and soul-nourishing journey in some way. Yes, making box brownies might seem like a superficial (and calorie-inducing) delight more than a transformational moment, but shifting my lens towards what's possible helps shake me out of my routine, reminds me that there are so many ways to spend the day, and that little acts in one's life—small shifts in our routine—can help build new neural pathways that open us up to even bigger questions. That excites me, and it makes a foggy summer in San Francisco a more adventurous one.
Everyone practices self care differently, and we all need moments to stop and do what we love. My hope is that this summer pilgrimage morphs into a daily practice, and that as the school year begins, I take the time in my days to invite possibility into my routine.
What have been your summer practices? And how might you invite possibility into your days as well?
---
Lori Cohen: Lori Cohen is the Dean of Faculty at the Bay School of San Francisco. Prior to her current position, Lori taught Humanities, Literature, and Religion/Philosophy at Bay for many years. Lori also coordinates Teacher Development seminars, in-house professional development, for Bay faculty and has begun a Teaching Fellows program that will be entering its third year. This will be Lori's fourth year as a co-facilitator/teacher leader in Teaching Foundations, a program that brings her joy and professional rejuvenation.