Building and Sustaining Community: What Matters Most in these Strange Times

In the opening episode of the Netflix hit series Stranger Things, a young boy goes missing, which catalyzes the community into uncovering the sordid secrets of their small town in an effort to find him. The young boy's three friends, along with a special guest who comes into their lives, form an even deeper bond on their quest to discover the mysteries surrounding their friend's disappearance. Along the way, they face doubts, fears, skepticism, seemingly insurmountable challenges, and a series of unforeseen supernatural and scary discoveries that impact them on their journey. And yet, they persist knowing they are stronger together.
Sounds a bit like the time we're living in? Possibly?
That's all I will share about the show lest I lose readers within my first paragraph. What I will share, though, is how the premise of Stranger Things (along with serving as a nostalgic homage to my childhood) reminds me a lot of how I have been spending my time these past couple of months: building a community of people working together in the face of a strange series of circumstances surrounding us, and despite some of the doubts, fears, and skepticism–and possibly some scary discoveries–we persist in service of a greater good, a good that promotes teamwork, access, and pathways to social justice.
If there is anything I have learned in my time working with the CATDC and serving as a leader at my school, it is the value of community: the knowledge that while it is certainly possible to go it alone, it's much more enriching and has a greater impact when in collaboration with others.
The past few months have allowed me to delve further into several collaborations, and the impact of these working relationships has been transformative. Our school is undergoing a schedule transition, and as we embark upon a more daring way to "do school," we know we're not the first to pioneer these efforts. Consequently, I reached out to our predecessors at The Hawken School in Ohio, set up bi-weekly phone calls with Julia Griffin (the Assistant Director of the Upper School for Teaching and Learning), and invited her and a team of teachers to The Bay School to present workshops on topics germane to our foray into what we're calling "Immersive" courses. It's comforting to know we have partners outside Bay, and as Julia and I continue our bi-weekly chats, we discuss the possibility of future work that allows our schools to work in support of one another.
Another meaningful collaboration has been among Bay Area Independent Schools (a group known as the Bay Area Teacher Access Consortium, or BAISTAC) in service of increasing access and creating awareness of Independent Schools to local candidates who may be seeking a career shift or a move into our realm. We hosted our very first Diversity Fair and Information Session this fall, and in the wake of that event, a group of 20+ local schools and organizations (including the CATDC) are in the process of discussing our next steps to increase diversity in our school sites; work collectively in service of culturally competent hiring/support/retention practices; and determine the best ways to harness the communal wisdom of all our stakeholders. In an era where our government sanctions just about every type of discrimination that dismantles the progress we have made as a nation, groups like BAISTAC counter those efforts knowing we're stronger when we're a unified front working on the same team. I can't wait to see where we are going next.
And finally, one of my most meaningful collaborations this fall has been with a cohort that magically formed with the help of CATDC's programs and communications–and resulted in presenting at this year's People of Color Conference with a presentation entitled, "It's Your Time: Aspiring Women Administrators of Color." With the formidable efforts of Tamisha Williams (Dean of Adult Equity and Inclusion at Lick Wilmerding High School), Juna McDaid (Middle School Head at Sonoma Country Day School), and Shoba Farrell (Assistant Dean for Professional Growth at University High School), we presented to an audience of close to 150 aspiring Women of Color leaders through focusing on core values, one-minute messages, affirming mantras, and practical tips for applying to leadership positions. We have been meeting as a cohort almost once a month for this past year, and this past conference deepened our bonds and propelled us to consider future workshops/presentations that will further serve those we most need to see in positions of leadership and influence in our school sites.
Even as I come to the end of this blog post, I can't help but marvel and feel hopeful at how much these communities empower, teach, and inspire me. I no longer can imagine what it would mean to work in isolation in a time that urges us to work and grow together–to further promote the values that make our profession so noble: increasing access, opening doors, and educating for a more socially just world.
May you find the communities that sustain you this season, and may you be well as we near the end of our calendar year.
---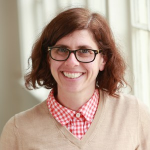 Lori Cohen: Lori Cohen is the Dean of Faculty at the Bay School of San Francisco. Prior to her current position, Lori taught Humanities, Literature, and Religion/Philosophy at Bay for many years. Lori also coordinates Teacher Development seminars, in-house professional development, for Bay faculty and has begun a Teaching Fellows program that will be entering its third year. This will be Lori's fourth year as a co-facilitator/teacher leader in Teaching Foundations, a program that brings her joy and professional rejuvenation.