Department Chairs Program
SESSION 1: October 28, 2020 | 2:00pm - 4:00pm
SESSION 2: November 4, 2020 | 2:00pm - 4:00pm
SESSION 3: January 13, 2021 | 2:00pm - 4:00pm
SESSION 4: January 27, 2021 | 2:00pm - 4:00pm
SESSION 5: March 10, 2021 | 2:00pm - 4:00pm
SESSION 6: March 24, 2021 | 2:00pm - 4:00pm
ABOUT THIS ONLINE ONGOING PROGRAM
The role of the department chair is often one of the most complex in a school. The chair must negotiate the responsibilities of leadership within the department as a teaching colleague while at the same time work with the administrative team in addressing the larger issues of the entire school. The goal of the Department Chairs Program is to provide the opportunity for exploring the multilayered challenges of this unique position and to support its participants in becoming more effective and satisfied in their work.
With the help of readings, activities, and group work, participants will learn new skills and processes, support each other around challenges they face, and establish a strong "leadership learning community" amongst themselves. Through six Zoom-based sessions, the program explores educational leadership and what it means to lead as a teacher while advancing the professional and departmental goals they have identified.
Some of the specific topics and issues we will explore are:
Forging a common and compelling vision/direction amongst independent-minded colleagues
Meeting design and facilitation
Building professional community so that teachers can discuss their practice, learn together, and support one another's growth – including the use of structured protocols to share our teaching practice and student work
Leading and managing change over time.
Central questions we will explore are:
How can I support my department through uncertainty and unpredictability? How does my leadership need to shift in a virtual learning and blended-learning environment?
How can I support the design and facilitation of key department work?
How can I support my department to collaborate and develop as a professional learning community?
How can I help the department contribute to the development of the school as a whole?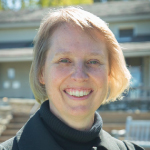 Deborah Dowling is the Executive Director of the California Association of Independent Schools. Prior to her current position she was the Assistant Head for Academic Affairs at Chadwick School. Prior to Chadwick she was the Upper School Director at Bridges Academy, and before that, the Director of Studies and Middle School Science Chair at Harvard-Westlake School. Originally from Melbourne, Australia, Deborah holds a bachelor's degree in physics and a doctorate in the history and philosophy of science. Deborah has taught students from kindergarten through undergraduate, in subjects ranging from music and philosophy through outdoor education and information technology, but most of her work has been in middle school science and high school physics. She has developed science curriculum materials for the Los Angeles County Office of Education, UCLA, Western Governors University, and the Victorian State Board of Studies in Australia.
Cancellation Policy
Life happens. We understand that there will be times when you cannot attend a workshop that you have registered and paid for. We strive to be as helpful and flexible as possible when things out of your control happen. Please visit our FAQ page for detailed information about our cancellation policy and answers to frequently asked questions about enrollment and membership.