Building LGBTQ+ Inclusive Schools and Communities for Elementary Educators
SESSION 1: October 19, 2022 | 9:00am - 11:00am
SESSION 2: November 2, 2022 | 9:00am - 11:00am
SESSION 3: November 16, 2022 | 9:00am - 11:00am
FOLLOW-UP SESSION: January 18, 2023 | 10:00am - 11:00am
ABOUT THIS ONLINE ONGOING PROGRAM
According to a report by GLSEN (2012), almost one in ten elementary school children do not conform to "traditional" gender roles. Being able to proactively talk about and develop LGBTQ+ inclusive policies and lesson plans is an important skill set for educators at all levels. However, there is often not enough information provided for elementary educators, because there is a false belief that it can't be done in an age-appropriate manner. When done well, elementary educators can help young students talk, think, and act in manners that are inclusive to their classmates and school community members of all genders. In this 3-part workshop series , participants will review LGBTQ+ identities, learn how to develop an LGBTQ+ inclusive curriculum, train on how to prevent misgendering and address microaggressions, practice the use of gender-neutral/inclusive language, develop LGBTQ+ inclusive and equitable classroom and school policies and infrastructure, and engage in discussions around personal identity reflection. All of the activities and information presented will be specifically tailored to the wants and needs of elementary students. Time will also be set aside during each workshop to address any site-specific issues or questions that educators need support with. All sessions will be interactive, engaging, conversational, and very informative!
Participants will:
Explore their own identities and biases as well as ways to improve language, policies, and inclusive practices

Understand the importance of identity development and how to be an active ally

Practice how to address misgendering and microagressions, discuss LGBTQ+ issues and identities with coworkers or students, and use gender-neutral and inclusive language

Build lessons plans designed to promote gender inclusion
Classroom teachers, administrators, counselors, school nurses, coaches, after-school teachers, and anyone else who identifies as an elementary educator
LGBTQ+ identities overview, self-reflection on identities
October 19th, 9:00-11:00 am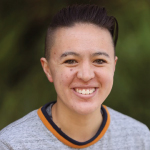 Mavi Pilloton (they/them) is a DEI Educator and Consultant who has over eight years of experience working in Marin County schools. Mavi identifies as queer, non-binary, and multiracial. They are also a full-time graduate student at SF State earning their Master's in Education, Equity, and Social Justice and is also a basketball coach at Marin Academy. They have worked for the Spahr Center for the last year leading educator workshops, developing their Elementary Educator Toolkit, and mentoring students. Mavi is excited to partner with CATDC to deliver these workshops!
Cancellation Policy
Life happens. We understand that there will be times when you cannot attend a workshop that you have registered and paid for. We strive to be as helpful and flexible as possible when things out of your control happen. Please visit our FAQ page for detailed information about our cancellation policy and answers to frequently asked questions about enrollment and membership.