Cultivating Resilience and Attunement on the Path to Racial Integrity
SESSION 1: October 13, 2020 | 9:00am - 11:30am
SESSION 2: November 10, 2020 | 9:00am - 11:30am
SESSION 3: January 20, 2021 | 9:00am - 11:30am
SESSION 4: March 2, 2021 | 9:00am - 11:30am
SESSION 5: April 21, 2021 | 9:00am - 11:30am
ABOUT THIS ONLINE ONGOING PROGRAM
Dynamics of racial oppression, degradation, resistance and resilience are present in all aspects of our lives- in our every interaction, in the world around us and within ourselves. As many of us feel, see, hear, wonder about and worry over, these dynamics deeply impact us, our students, colleagues, families and campus communities.
This working group was created to offer a unique Cross-Racial Professional Learning Community in which equity-focused educators can cultivate the knowledge, grounding, skills and interpersonal dexterity they need to transform personal, professional and institutional practice.
Cultivating Resilience and Attunement on the Path to Racial Integrity is specifically designed for those who are:
Addressing, healing from and growing through experiences of racial marginalization
Reckoning with the assaults to one's own integrity and the harm to others that result from living with unexamined racial privilege
Located in a racial "middle ground" and are racially marginalized with respect to some and racially privileged in relationship to others
Participants will be introduced to a four-component framework to support their ongoing capacity to live and work with integrity. Through visual facilitation, storytelling, small-group activities, group and individual body-based grounding practices and whole-group dialogue, participants will utilize the framework to develop a personal learning plan to guide their growth during and beyond the program. Participants will leave with a deepened capacity to resist racism and embrace equity, a renewed sense of purpose, and concrete tools to support becoming a self-improving practitioner that grows from experience.
Sample learning outcomes include:
Racial Equity Values and Purpose: Critically evaluate how your values and purpose do (and do not) offer you the shelter, inspiration, motivation, fortitude and grounding you need to recognize, resist and transform the systemic racial oppression that shows up in your relationships, institution and larger world.
Racial Self-Care and Self-Management: Assess how your racial self-care and self-management strengths and growth areas (positively and negatively) relate to larger historical patterns of racial oppression, degradation, resistance, and resilience.
Racial Literacy: Create a plan for your future learning that will increase both your knowledge base and your capacity to decode, interpret, evaluate and reframe the dynamics of racial oppression and resistance that you encounter.
Racial Sensitivity: Develop a personal learning map to bring your racial "self in practice" into greater harmony with your racial equity values and purpose.
Please note:
For those examining their racial privilege, this program is not designed to tell you "what to do", how to "get it right" or serve as a space to passively "take in people's stories". Intellectual engagement, emotional investment, interpersonal risk-taking and learning to soothe and settle your own body are necessary to transform the ways in which you engage in the world.
Please expect the facilitator(s) to center the needs of the racially marginalized. This program is intended for Black folks, Indigenous folks, white folks, Middle Eastern/North African folks, Asian folks, Latinx folks, and mixed folks and will be a LGBTQ+ affirming space.
In order to minimize screen time and maximize both interactive learning and continuity, please expect some engaging and meaningful "homework" in advance of each session.
This is a selective program and all applications will be reviewed to ensure that the cohort is balanced and diverse.
Application components:
Pay $50 deposit on Eventbrite (Deposit is refunded if you are not admitted into the program, but is non-refundable if you are admitted.)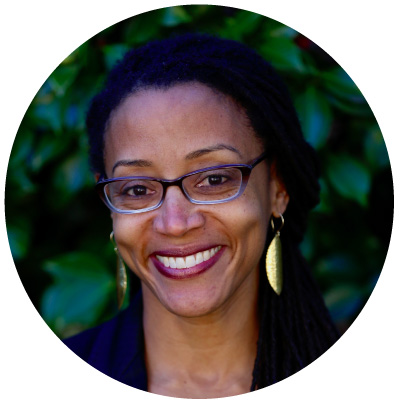 Nikkia Young, PhD, is the Director of Counseling at Lick-Wilmerding High School in San Francisco, CA.  An experienced equity and social justice oriented educator, consultant and licensed clinical psychologist, she has served on the teaching faculty at the Women's Therapy Center in Berkeley, the Northern California Society for Psychoanalytic Psychology, and the California School of Professional Psychology in San Francisco. Nikkia earned her B.A. in Development Studies from UC Berkeley, her teaching credential from UC Berkeley, Extension, and her Ph.D. in Clinical Psychology from the California School of Professional Psychology. Her early career experiences as a gymnastics, dance, and martial arts instructor turned Kindergarten teacher, taught her to improvise and listen, move and play, keep her heart open during conflict, and attune to the deep needs of a group. Nikkia's mission is to transform personal, professional, and organizational practice through interrupting hidden cycles of trauma and initiating cycles of healing that cultivate harmony within and between bodies.
Cancellation Policy
Life happens. We understand that there will be times when you cannot attend a workshop that you have registered and paid for. We strive to be as helpful and flexible as possible when things out of your control happen. Please visit our FAQ page for detailed information about our cancellation policy and answers to frequently asked questions about enrollment and membership.