Building Blocks of Effective Education: A Workshop Series on Foundational Classroom Best Practices
Oct 05, 2023 3:30PM—Apr 18, 2024 5:30PM
Location
Virtual
Cost Early Bird Pricing for Members (Available until Sept 7) $1,475 members; $1,250 group-rate 3+; $2,325 non-members
Categories Curriculum & Pedagogy, Equity & Inclusion, Ongoing Program, Online Offerings, Online Workshop, Social & Emotional Learning
Building Blocks of Effective Education: A Workshop Series on Foundational Classroom Best Practices
SESSION 1: October 5, 2023 | 3:30pm - 5:30pm
SESSION 2: November 2, 2023 | 3:30pm - 5:30pm
SESSION 3: December 14, 2023 | 3:30pm - 5:30pm
SESSION 4: January 11, 2024 | 3:30pm - 5:30pm
SESSION 5: February 15, 2024 | 3:30pm - 5:30pm
SESSION 6: March 14, 2024 | 3:30pm - 5:30pm
SESSION 7: April 18, 2024 | 3:30pm - 5:30pm
ABOUT THIS ONLINE ONGOING PROGRAM
Join us for a unique opportunity to refresh and renew your classroom practices and teacher toolkit with Damaris Saenz, Middle School English faculty at Harvard-Westlake. This 7-session program will focus on topics that offer opportunities to reflect on current strategies, engage in new practices, and cultivate a supportive learning community.
Session topics include:
Teacher-student relationship building and developing a prosocial classroom

Equitable classroom management

Setting high expectations & engaging students in your lesson

Cooperative learning
Additionally, methods for integrating and leveraging classroom technology to best support students will be shared.
Participants will:
Explore and implement classroom practices

Engage with diverse tools that can be put into practice immediately

Reflect on successes, challenges, and a path forward that will support the needs of diverse learners

Build community with fellow educators
This program is relevant to educators, with a focus on classroom teachers, at all levels and experiences.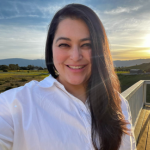 For the past 16 years Damaris Saenz has served as an educator in middle and upper school English programs. Apart from her role as a classroom teacher she has served in various leadership capacities such as middle school DEI coordinator, and international  educational consultant where she leveraged a passion for curriculum to create professional development seminars on collaborative learning, ESL best practices, strategies for new teachers, new approaches to assessment, and positive behavioral intervention strategies. Damaris has also served as an adjunct faculty at La Sierra University where she has taught courses in both the  Masters in Curriculum and Instruction and Masters in Teaching program. She currently serves as the chair of the Middle School English department at Harvard-Westlake.
Cancellation Policy
Life happens. We understand that there will be times when you cannot attend a workshop that you have registered and paid for. We strive to be as helpful and flexible as possible when things out of your control happen. Please visit our FAQ page for detailed information about our cancellation policy and answers to frequently asked questions about enrollment and membership.