Beyond Diversity 101: Developing Inclusive Communities and Equity Leadership
May 07, 2019 9:00AM—3:00PM
Location
Laguna Blanca School, Santa Barbara, CA
Cost $275 members; ($425 non-members)
Categories Equity & Inclusion, Intensive
In the midst of a national climate that seemingly grows more divisive and contentious by the day, it is imperative that schools provide students skills to engage across difference, develop empathy, and value our common humanity. This is a complex and often daunting task, however. The path to creating truly diverse, equitable, and inclusive (DEI) school communities is often fraught with obstacles—both predictable and unforeseen. While in many ways our independent school communities are unique, we face similar DEI challenges. This workshop provides a space for teachers, administrators, and staff to better understand the DEI landscape in K-12 schools, engage with case studies and research, share professional and personal experiences, and learn new skills. Increase your DEI knowledge and awareness, and develop a toolbox in order to better support the creation of the equitable and inclusive communities our students deserve.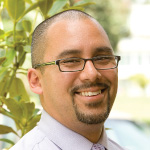 Matthew Balano is an educator, diversity, equity & inclusion consultant, and social justice activist. A San Francisco native, Mr. Balano has twenty years of experience in education. He is the Director of Diversity & Inclusion and the Associate Dean of Students at The Thacher School. Prior to that, he spent 16 years at St. Ignatius College Preparatory, where he began in 2001 as a member of the English Faculty and transitioned in 2006 to Director of Student Support. From 2010- 2017, Mr. Balano served as St. Ignatius' first Director of Equity & Inclusion, and from 2014-17, as the national chair of the Jesuit Schools Network (JSN) Diversity Directors. He is the founder of the annual West Coast Latinx Summit, a two-day event that brings together hundreds of Latinx youth from across the Western US to explore identity, share culture and develop leadership skills. He has worked extensively as a teacher and administrator with Magis—a San Francisco-based academic enrichment program for first-generation college-bound students—Mr. Balano is also a board director of World Trust Educational Services and has organized and presented at numerous national and regional diversity conferences and professional development in-services. He lives in Ojai, CA, with his son.
Cancellation Policy
Life happens. We understand that there will be times when you cannot attend a workshop that you have registered and paid for. We strive to be as helpful and flexible as possible when things out of your control happen. Please visit our FAQ page for detailed information about our cancellation policy and answers to frequently asked questions about enrollment and membership.