Study Group for White Educators
Study Group for White Educators
SESSION 1: July 15, 2021 | 9:00am - 11:00am
SESSION 2: July 21, 2021 | 9:00am - 11:00am
SESSION 3: July 29, 2021 | 9:00am - 11:00am
ABOUT THIS ONLINE SUMMER INSTITUTE
The 2020-2021 school year certainly isn't one educators will soon forget. Educating in a pandemic taught us a lot about our schools, our students, and ourselves. The year also brought a long-overdue increased awareness of our need as white educators to address race and racism in our schools, classrooms, and ourselves. We understand better than ever that it's upon us to recognize and disrupt white supremacy culture in our schools. But how do we gain the tools to do this important work?
This summer,  please join us for a three-part series to engage with poignant and instructive texts about whiteness and white supremacy culture within a supportive and well-facilitated community of white educators. Through reading, reflecting, and applying our developing understandings to our own lives and teaching practices, we will examine this central question: What does it really mean to be a white educator doing antiracist work?  This series will allow and inspire educators to explore whiteness in challenging, authentic, and supportive ways.
CATDC will provide all reading materials in a digital format.
Texts Under Consideration:
Excerpts from My Grandmother's Hands: Racialized Trauma and the Pathway to Mending our Hearts and Bodies by Resmaa Menakem
Excerpts from We Want to Do More Than Survive: Abolitionist Teaching and the Pursuit of Educational Freedom by Bettina Love

Selected episodes from the "Seeing White" podcast

Excerpts from Reading, Writing, and Racism: Disrupting Whiteness in Teacher Education and in the Classroom By Bree Picower 

Selected articles
This program is intended for self-identified white educators seeking to deepen their antiracist journey both in and out of the classroom.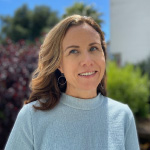 Liza Gleason has been an educator in the Bay Area for more than 25 years. She earned her teaching credential and Masters at Mills College at the start of her career and is currently back at Mills working toward a Doctorate in Educational Leadership. Liza has taught at the elementary and middle school level in both public and independent schools. She is passionate about anti-racist teaching practices. As a humanities teacher, after years of using mostly traditional resources and texts, she worked to create an anti-racist curriculum that decentered whiteness. Currently, along with her graduate school work, which focuses on white teachers and anti-racism, Liza coaches individual teachers and teaching teams on their pedagogy and instruction at Live Oak School and for CATDC as part of the Equity as Excellence team. She lives in San Francisco with her husband, an 11-year-old son, and a rescue dog named Sammy. 
Cancellation Policy
Life happens. We understand that there will be times when you cannot attend a workshop that you have registered and paid for. We strive to be as helpful and flexible as possible when things out of your control happen. Please visit our FAQ page for detailed information about our cancellation policy and answers to frequently asked questions about enrollment and membership.