Bringing our Full Selves to the Work of Being White Anti-Racists: A Time to Pause, Reflect, and Reintegrate
SESSION 1: July 14, 2021 | 9:00am - 2:00pm
SESSION 2: July 15, 2021 | 9:00am - 2:00pm
ABOUT THIS ONLINE SUMMER INSTITUTE
The saying, the more we learn, the less we know can certainly reflect how it feels to learn about one's whiteness. The past year has brought many moments of learning for white people. There have been scores of articles to read, endless workshops and webinars to attend, a great deal of listening to do, and so many other opportunities for white people to grow our awareness of our whiteness and its impact in our schools, our lives, and in our society. It's been both exhilarating and overwhelming. Now it's time to pause; it's time to gather together and reflect. Healer and trauma specialist Resmaa Menakem says that we have to settle in our bodies to do antiracist work. This summer is the perfect opportunity for white identifying educators to do just that; to pause, to think deeply, and to settle our bodies. 
In this two day intensive, we'll spend time unpacking whiteness in courageous, reflective, and somatic ways,  exploring our identities and how they have been historically constructed and reconstructed. We'll slow down and make space for the learning, processing, and questions we have after this year and whatever came before. We'll explore our whiteness through a trauma-informed lens that goes beyond the intellectual space we so often limit ourselves to and instead, seek to center the mind, heart, and soul. Deep reflection and whole-body practices allow us to bring our full selves to the antiracist work we know we must do in our lives and schools. 
Some questions we'll ask and explore:
What are our origins? Where did whiteness come from and how did we become white? 

How does whiteness live in us? How do we recognize it within ourselves and how do we build the capacity to understand how it shows up in ourselves, our schools, and our world?

How do we bring our full selves to our antiracist work?
This workshop is an affinity space for white self-identified educators.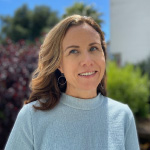 Liza Gleason has been an educator in the Bay Area for more than 25 years. She earned her teaching credential and Masters at Mills College at the start of her career and is currently back at Mills working toward a Doctorate in Educational Leadership. Liza has taught at the elementary and middle school level in both public and independent schools. She is passionate about anti-racist teaching practices. As a humanities teacher, after years of using mostly traditional resources and texts, she worked to create an anti-racist curriculum that decentered whiteness. Currently, along with her graduate school work, which focuses on white teachers and anti-racism, Liza coaches individual teachers and teaching teams on their pedagogy and instruction at Live Oak School and for CATDC as part of the Equity as Excellence team. She lives in San Francisco with her husband, an 11-year-old son, and a rescue dog named Sammy. 
Cancellation Policy
Life happens. We understand that there will be times when you cannot attend a workshop that you have registered and paid for. We strive to be as helpful and flexible as possible when things out of your control happen. Please visit our FAQ page for detailed information about our cancellation policy and answers to frequently asked questions about enrollment and membership.