Decentering the Western Canon: Humanities Curriculum Cohort
Decentering the Western Canon: Humanities Curriculum Cohort
SESSION 1: January 8, 2024 | 10:00am - 2:00pm | Vistamar School
SESSION 2: February 12, 2024 | 3:30pm - 5:30pm | Virtual
SESSION 3: March 11, 2024 | 3:30pm - 5:30pm | Virtual
SESSION 4: April 19, 2024 | 10:00am - 2:00pm | Marlborough School
ABOUT THIS HYBRID ONGOING PROGRAM
Humanities educators have a critical role in supporting the affirming and illuminating experiences we want our students to have as they encounter diverse stories and voices. CATDC's Humanities Curriculum Cohort will provide a space where teachers can share what's working for them, get support on what's not yet working optimally in their classrooms, and pilot new strategies using critical friends or lesson study protocols. This group will also support navigating conversations with colleagues about culturally responsive teaching practices. Participants will gain classroom strategies, routines, and protocols that center the unique needs of their students. A professional literature circle will build a framework for our work together, and allow us to share current thought from current DEI experts in the field.
Essential questions for cohort:
How do humanities educators successfully de-center the Western canon in curricula evolution?

How can educators partner with all stakeholders to ensure sustainable curricular changes?

How can educators work to ensure that curricular changes that seek to affirm all students' identities, particularly those of marginalized identities, align with departmental standards? How can educators advocate for shifts in standards to support these changes? 
Educators will:
Develop an actionable plan to evolve humanities curricula in their schools

Engage in practices that support advocacy for making substantive, long-term curricular changes

Share practical classroom strategies 

Pilot and workshop lessons 

Build community with fellow humanities educators

Participate in a professional literature circle that focuses on learning from experts in the DEI space
This ongoing hybrid program is for middle and high school humanities educators.
COVID-19 SAFETY PROTOCOLS
CATDC, Vistamar School, and Marlborough School will be working together to do all we can to ensure your health and safety during our in-person session, monitoring closely nationwide, state, and local updates and recommendations. We ask that you do not attend if you are infected with Covid, have Covid symptoms, or have had close contact with someone who is infected in the last 10 days.
Starting February 2023, we will no longer check vaccination status at the first session of our workshops, but we strongly encourage all CATDC participants to be fully vaccinated.
Given the nature of our in-person programs which gather individuals together from a variety of schools and regions, CATDC may require or strongly recommend masking indoors and/or testing on a program-by-program basis.  A host school/venue may require additional protocols which we will communicate to participants via email in a timely fashion prior to a program or session.  All Covid-related refund requests will be considered on a case-by-case basis. Thank you for your understanding and your cooperation.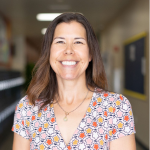 Sarah Older Aguilar is the Humanities Department Chair at Vistamar School in El Segundo, CA, where she has taught a variety of integrated Humanities and Literature courses over the past 14 years. In collaboration with a brilliant team of colleagues, her work focuses on curating a richly diverse array of topics, texts, and teaching practices intended to expand students' understanding of the world, and their place within it. She is currently motivated to infuse her classes with more poetry to cultivate student creativity and voice–and to increase opportunities for students to see diverse reflections of their lived experiences. Sarah earned her doctorate in Comparative Literature from UCLA, where her research centered broadly on African-American and Latin-American literary traditions, and, more specifically, the fields of trauma studies and collective memory.  When she is not reading, writing, or teaching, Sarah might be found practicing warrior two, growing tomatoes, or trying to master her favorite pan dulce recipes.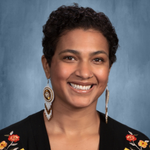 Taryn Marshall is Lower and Upper School History Instructor at Marlborough School, Los Angeles. Since earning her M. Ed. at UCLA's School of Education, she has been a founding history teacher for a girls' public charter middle school in Los Angeles valley, and then transitioned to Marlborough in 2020. In her current position at Marlborough, she teaches a 7th grade Civics and Citizenship course, an interdisciplinary 10th grade American Studies History course, and advises multiple groups of 12th grade students in Honors Research in Social Sciences and Capstone internship program. Taryn's interest lies in the intersectionality of gender equity, as can be reflected in her experiences such as earning her B.A. in Women's, Gender, and Sexuality Studies from a women's college, and working with a feminist non-profit for high school students in Newark, NJ. Her current interest is thinking about how to center teacher and students' authentic selves for joy and learning in the classroom.
Cancellation Policy
Life happens. We understand that there will be times when you cannot attend a workshop that you have registered and paid for. We strive to be as helpful and flexible as possible when things out of your control happen. Please visit our FAQ page for detailed information about our cancellation policy and answers to frequently asked questions about enrollment and membership.