SESSION 1: October 13, 2022 | 9:00am - 2:00pm
SESSION 2: January 24, 2023 | 9:00am - 12:00pm
SESSION 3: March 24, 2023 | 9:00am - 12:00pm
SESSION 4: May 4, 2023 | 9:00am - 12:00pm
ABOUT THIS ONLINE ONGOING PROGRAM
For decades, the science has been clear: climate change is real, and an existential threat. In California, we have experienced this most dramatically with the increasing duration and intensity of the wildfire season. We also know that climate change affects those least responsible for climate change most dramatically– including people who live in marginalized communities in the US, on island nations, and throughout the global South. We also see how it's making a score of other problems worse, including war, famine, and refugee crises.
And yet climate education offers great opportunities for beauty and hope, in building a better world, and finding better ways to live with the earth and with one another. 
How might our schools approach this multi-dimensional problem appropriately, with all of the passion and talents of our students, faculty and community? How might we move with courage, innovation, and collaboration? 
CATDC's Climate Leaders Alliance will help you and your school get grounded in all the facets of climate change: its global impact and local contexts;  its relationship with justice, innovation, and governance, and more. With access to hands-on projects and a diverse set of guest speakers and organizations, you will come away not only empowered to take action and ameliorate climate anxiety, but also with a community of other practitioners working alongside you.
Participants will:
Build a global understanding of the climate crisis and climate solutions, developing working relationships with other schools, communities, climate science authorities, and other relevant state and federal agencies
Recognize their school's responsibility for climate action, set clear, tractable goals, and be positioned to make bold, year-over-year progress.
Understand how their school can be sites of innovation and opportunity for climate change mitigation and resilience
Create in their schools collaborative action that ameliorates climate anxiety

Interrogate the leadership implications of this work
This program is designed for current and aspiring leaders of climate education, teachers and all levels of administrators who are passionate about climate solutions and committed to making positive change within their schools and beyond.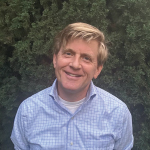 MARK BASNAGE
Over the past 30 years, Mark Basnage's education work has engaged him on the East Coast and the West Coast; in public, private, and charter schools, museums, and nonprofits. Mark's environmental work stretches back to his earliest work creating programs with the Wagner Institute of Science, and schools in North Philadelphia.  He has received fellowships from the Orion Society and The Fulbright Memorial Fund, and was among the first recipients of the City of Philadelphia's Great Friends To Kids award.
Since 2009, Mark has been the Director of Innovation and Technology at Prospect Sierra, in El Cerrito. Mark's innovation leadership at Prospect Sierra includes curating a groundbreaking TEDx  event on compassion in education; introducing design thinking to the school, and launching the vibrant "colab" makerspace program on both campuses. 
MakeKnowledge, the 501(c)3 nonprofit organization that Mark founded, creates ecosystems of opportunity and innovation in education. The work of MakeKnowledge includes its STEM++ project, aimed at increasing the success of underrepresented students on STEM pathways, and its more recent work creating climate dashboards for schools.
Cancellation Policy
Life happens. We understand that there will be times when you cannot attend a workshop that you have registered and paid for. We strive to be as helpful and flexible as possible when things out of your control happen. Please visit our FAQ page for detailed information about our cancellation policy and answers to frequently asked questions about enrollment and membership.