Anti-Racist Study Group: White Fragility
SESSION 1: July 2, 2020 | 9:30am - 11:00am
SESSION 2: July 9, 2020 | 9:30am - 11:00am
SESSION 3: July 16, 2020 | 9:30am - 11:00am
ABOUT THIS ONLINE WORKSHOP
As Summer 2020 begins amidst a global Black Lives Matter movement, many of us feel a greater than ever sense of responsibility as educators. Those of us who are white are considering our role closely, contemplating how to be more accountable to our colleagues, students, and families. We are asking important questions about how we can engage our students and communities in conversations about the role race plays in our society. But knowing exactly how to do this work can feel complicated and even scary. First, we must understand ourselves and what it means to be white people and educators today. 
Join us for this book study experience where we will dig deep into meaningful and real conversations about whiteness. We'll use Robin DiAngelo's White Fragility: Why it's so Hard for White People to Talk about Racism as our main text. While this book was written two years ago and already exists on many bookshelves, perhaps even yours, it's sure to generate the conversations we need to be having right now. DiAngelo holds up a mirror and asks us to go beyond the good/bad white person binary. She pushes us to places of discomfort that we must go to if we are truly going to uproot white supremacy, and change ourselves, our classrooms, our schools, and our communities for the better. Along with DiAngelo's book, we will bring in more recent short texts and videos, and spend time engaged in reflection, journaling, and discussion about our learning in small and larger groups as it connects to our roles as white educators today. 
Please join us for what promises to be a difficult, yet essential learning experience, one that will help us enter the 2020/2021 school year further along the path in becoming anti-racist educators.
This workshop is intended for self-identified white educators at all levels of experience engaging in anti-racist work. Note that participants will need to obtain their own copy of White Fragility.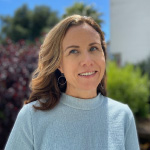 Liza Gleason has been an educator in the Bay Area for more than 25 years. She earned her teaching credential and Masters at Mills College at the start of her career and is currently back at Mills working toward a Doctorate in Educational Leadership. Liza has taught at the elementary and middle school level in both public and independent schools. She is passionate about anti-racist teaching practices. As a humanities teacher, after years of using mostly traditional resources and texts, she worked to create an anti-racist curriculum that decentered whiteness. Currently, along with her graduate school work, which focuses on white teachers and anti-racism, Liza coaches individual teachers and teaching teams on their pedagogy and instruction at Live Oak School and for CATDC as part of the Equity as Excellence team. She lives in San Francisco with her husband, an 11-year-old son, and a rescue dog named Sammy. 
Cancellation Policy
Life happens. We understand that there will be times when you cannot attend a workshop that you have registered and paid for. We strive to be as helpful and flexible as possible when things out of your control happen. Please visit our FAQ page for detailed information about our cancellation policy and answers to frequently asked questions about enrollment and membership.