The Art of Leading Educators
SESSION 1: August 3, 2020 | 9:00am - 2:00pm
SESSION 2: August 5, 2020 | 9:00am - 2:00pm
ABOUT THIS ONLINE SUMMER INSTITUTE
This leadership institute is aimed at building the skills of educators who supervise and support teams at their schools. Through a neurobiology and social science research lens, we can deepen our understanding of the critical factors needed to create environments that support individual and organizational resiliency. Through this two-day deep dive we will explore the benefits and limitations of different leadership styles, communication styles, and the critical role of emotional intelligence in leadership particularly during COVID-19. Ultimately, we will develop skills and understandings to create a school culture where all educators can thrive.
Application of different leadership styles and competencies specific to today's world

Understanding of how to facilitate positive cultures of feedback and open dialogue

Recognition of indicators of individual and organizational resilience

Reflection on strategies to navigate through the uncertainty and challenges of today's world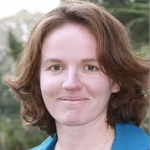 Kate Sheppard's work focuses on helping non-profit and human-service organizations develop leadership, evaluate and articulate impact, and synchronize their actions and ideologies. Kate has worked as a consultant for the past ten years as a Senior Associate for Dialogues in Action leading over 100 large-scale evaluation projects. In 2018 Kate founded her own consulting company, See Change Consulting. For the past seventeen years, Kate has also worked for the YMCA of San Francisco. Her current role directing staff development allows her to focus on supporting over 2,400 staff in creating positive work environments, building individual capacity, and leading organizational change strategies.
Cancellation Policy
Life happens. We understand that there will be times when you cannot attend a workshop that you have registered and paid for. We strive to be as helpful and flexible as possible when things out of your control happen. Please visit our FAQ page for detailed information about our cancellation policy and answers to frequently asked questions about enrollment and membership.