Setting the World Languages Standard: High-Leverage Framework-Aligned Instructional Practices
Setting the World Languages Standard: High-Leverage Framework-Aligned Instructional Practices
SESSION 1: October 20, 2021 | 3:30pm - 5:30pm
SESSION 2: November 17, 2021 | 3:30pm - 5:30pm
SESSION 3: December 15, 2021 | 3:30pm - 5:30pm
SESSION 4: February 16, 2022 | 3:30pm - 5:30pm
SESSION 5: April 20, 2022 | 3:30pm - 5:30pm
ABOUT THIS ONLINE ONGOING PROGRAM
Independent school autonomy often empowers educators to innovate in creative and unique ways while also potentially isolating them from advances made in the public sector. The new California Standards and Framework present an exciting opportunity for all teachers to redefine their students' pathway towards multiliteracy with intercultural communication and global competence.
This series of five interactive sessions will support world language teachers in applying the new California World Language Standards (adopted in 2019) and Framework (adopted in 2020) in service of developing students' proficiency. Shared instructional practices will be designed and differentiated to make learning relevant to teachers of all languages, contexts, and grade levels.
Participants will acquire methods to leverage the communication, culture, and connections standards as well as explore approaches to integrate social justice, global competency, Universal Design for Learning, equitable assessment, and the IMAGE and PACE models into their instruction. A core goal will be to build a supportive community of practice; all sessions will include time and support to develop activities, lessons, and units that will enrich learning and motivate students.
This series is open to all world language teachers of all grade levels. Beginning-, mid- and late-career teachers interested in refining their practices are welcome.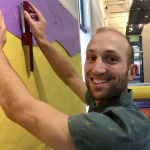 Michael Vossen is a High School teacher of Spanish and Creative Process at The Bay School of San Francisco. He is president of the World Language Association of Santa Clara County (FLASCC) and a frequent presenter at ACTFL, CLTA, FLASCC, and Stanford World Language Project workshops and webinars. Michael co-teaches the California World Language Projects' Summer Seminar strand for prospective world language teachers. He is fluent in Portuguese and teaches salsa dance.
Cancellation Policy
Life happens. We understand that there will be times when you cannot attend a workshop that you have registered and paid for. We strive to be as helpful and flexible as possible when things out of your control happen. Please visit our FAQ page for detailed information about our cancellation policy and answers to frequently asked questions about enrollment and membership.