Reflective Practice Professional Learning Community
Reflective Practice Professional Learning Community
SESSION 1: October 26, 2021 | 9:00am-12pm
SESSION 2: November 16, 2021 | 9:00am-12pm
SESSION 3: January 11, 2022 | 9:00am-12pm
SESSION 4: March 15, 2022 | 9:00am-12pm
SESSION 5: May 3, 2022 | 9:00am-12pm
ABOUT THIS ONLINE ONGOING PROGRAM
Reflection is a key professional practice that often gets set aside during times of great stress and rapid change. We know that reflection is an important part of our own growth and development cycles, especially as it relates to unlearning inequitable practices and challenging deficit mindsets. Reflection is also critical to the development of our students, which makes it imperative that we're modeling this reflection in order to also promote it in our learning spaces. This group will engage participants on how to more intentionally participate in a deep reflective practice that speaks to their emotional and intellectual selves. Our sessions will provide the space for participants to engage directly in a range of reflective practices with application to their current experiences as teachers and leaders as well as explore ways to bring these practices into their classrooms and school sites. A strong emphasis will be placed on building community.
Participants will:
Understand the importance of engaging in a deep reflective practice as educators committed to lifelong learning

Practice a variety of reflective practices to support personal growth and professional development

Develop skills to integrate reflective practices into classroom teaching and leadership experiences

Build a network of other educators committed to reflective practice for ongoing support and inspiration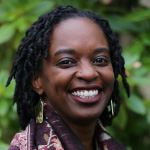 Tamisha Williams (she|her) is a dynamic facilitator, transformational leader, coach, and practitioner in diversity, equity, and inclusion. Through the use of movement and storytelling, Tamisha inspires educators to deepen their equity and racial-literacy skills. Tamisha has experience working with students, faculty and staff members, administrators, parents, and trustees to create an integrated program by naming and confronting structural and systemic inequalities in the school communities. In addition to her work with multiple stakeholders in a school community, Tamisha also focuses on wellness, equity awareness, and healing spaces for BIPOC (Black, Indigenous, and People of Color) and LGBTQ+ community members. Tamisha earned her B.A. in Studio Art and Comprehensive Education from the University of Richmond and her M.Ed. in Family and Marriage Counseling from The College of William and Mary. Her artistic and counseling background informs her recognition of the power of storytelling and her belief that movement and art are integral to healing.
Cancellation Policy
Life happens. We understand that there will be times when you cannot attend a workshop that you have registered and paid for. We strive to be as helpful and flexible as possible when things out of your control happen. Please visit our FAQ page for detailed information about our cancellation policy and answers to frequently asked questions about enrollment and membership.